This article is more than 1 year old
Zoom finally adds end-to-end encryption for all, for free – though there are caveats
Perhaps we can talk about extra security and compromises honestly
Zoom has finally added what it says is end-to-end encryption to its video conferencing service at no additional cost for all users, whether they are paying subscribers or not.
The feature has been long awaited given the service's massive take-up as a result of pandemic lockdowns: something that swung a spotlight on its patchy security. It is available now as a "technical preview" for the next 30 days, the company announced on Tuesday, and it is looking for user feedback before rolling it out.
"We're very proud to bring Zoom's new end-to-end encryption to Zoom users globally today," said Zoom CISO Jason Lee.
"This has been a highly requested feature from our customers, and we're excited to make this a reality. Kudos to our encryption team who joined us from Keybase in May and developed this impressive security feature within just six months."
Zoom says its end-to-end encryption (E2EE) will use 256-bit AES-GCM, which we take to mean the data in transit is ultimately encrypted using this algorithm, and some sort of secure public-private key exchange is performed beforehand to ensure only the participants on the call can decrypt each others' part of the conversations – and no eavesdroppers, not even Zoom itself, can listen in and make sense of what's happening. Zoom already encrypted its communications using AES-GCM-256 though it wasn't truly end to end until now for all.
In an FAQ, the biz stated:
Zoom's E2EE offering uses public key cryptography. In short, the keys for each Zoom meeting are generated by participants' machines, not by Zoom's servers. Encrypted data relayed through Zoom's servers is indecipherable by Zoom, since Zoom's servers do not have the necessary decryption key. This key management strategy is similar to that used by most end-to-end encrypted messaging platforms today.
An account admin will need to enable the E2EE setting and it can be switched on at different levels – at the account level, plus group and user level – and it's limited to 200 participants. The setting can also be toggled on and off for any given meeting. A green shield will appear in the upper-left corner of the meeting window when a meeting is E2EE secured.
All of which is pretty much exactly what users have been asking for and appears to extend the easy use of its software that has made Zoom an instant success in 2020, even when there are numerous other, more established, video conferencing companies.
Restrictions
The company did not flag up in its announcement the caveats to its end-to-end encryption for video conferencing. These were provided on a separate webpage and blog post.
It will not be possible, for example, to join an E2EE meeting before the host because the host manages the key distribution. Cloud recording will also be disabled, as will live transcription, breakout rooms, polling, one-to-one private chats, and live emojis reactions.
Importantly, all users will also need to use Zoom software to access an E2EE meeting, meaning that people will not be able to dial-in nor use devices that won't support the end-to-end crypto. Third-party software that works with Zoom will also not work with the system, at least, not right now.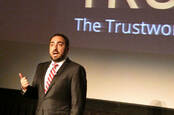 Zoom bomb: Vid conf biz to snap up Keybase as not-a-PR-move move gets out of hand
READ MORE
It's a shame that Zoom hasn't made more of those restrictions because it would help spread broader understanding of what end-to-end encryption really is and how it works: something that is dearly needed thanks to both politicians and law enforcement purposefully muddying the waters out of a desire to have access to encrypted communications.
Zoom explained that using end-to-end encryption is "best for when you want enhanced privacy and data protection for your meetings, and is an extra layer to mitigate risk and protect sensitive meeting content."
And it implied it may be able to lift some of the current restrictions in "phase 2" of the E2EE program, including "better identity management" and single-sign-on, something that it will roll out at some point in 2021. There are, apparently, another two phases after that.
The E2EE feature is available on new releases of the Zoom software for macOS, Windows, Android, Linux, and iOS pending Apple approval. ®