This article is more than 1 year old
Planet Computers throws Linux fans a bone, improves calls, and adds virty trackpad to Cosmo Communicator
Update tips more functionality on gizmo's second display
Planet Computers has updated the Debian-based operating system for its Cosmo Communicator PDA to allow users to place calls from the device's second screen.
Released last year, the Cosmo Communicator is a modern-day reimagining of the Psion Series 5 PDAs of yore. The device comes with two touch-sensitive displays: a primary landscape screen, and a smaller low-energy panel on the front intended for quick interactions like managing notifications.
Unusually for what effectively amounts to a smartphone (albeit one with a highly aberrant form factor), the Cosmo comes with support for two operating systems: Android and Debian, with the latter using the KDE environment. Support for Linux was added in February, several months after the Cosmo first hit general availability.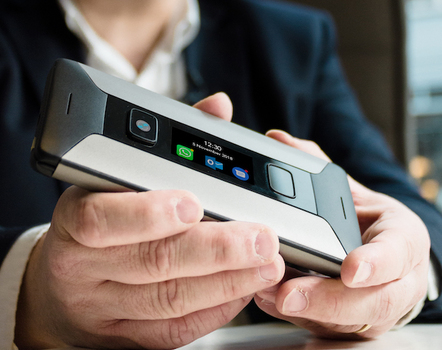 The latest Linux firmware is designed to bring more functionality to the second display. Telephony is heavily emphasised, allowing punters to make and manage calls, and scroll through their call history. This screen can also be used to reboot the phone.
Another nice touch is the ability to use it as a trackpad. This makes sense when you consider that the KDE environment used by the Cosmo's Linux option isn't especially optimised for what amounts to a heavily touch-driven experience. Smaller UI elements, like menu bars and so on, can be hard to accurately hit with a finger.
This firmware is available to download now, and can be accessed from the product's support pages.
Planet Computers said it is already working on a follow-up device, dubbed the Astro. This handset ditches the Psion-inspired aesthetic for a slider form factor, much like the F(x)tec F1 and Pro1 X, and brings with it support for 5G and Wi-Fi 6.
The UK startup has raised over £1.15m to bring this effort to life on Indiegogo, with devices promised to ship early next year. Again, this handset will offer punters the option to choose between Linux, Android, or to have both. ®