This article is more than 1 year old
SpaceX's Starlink finally reveals its satellite broadband pricing for rural America: At $99 a month, it's a good deal
The $499 equipment cost and laggy latency give room for pause
SpaceX's satellite broadband service Starlink has finally revealed its pricing: $99 a month for speeds that vary between 50Mbps and 150Mbps... plus 500 bucks to buy the necessary equipment.
That is not a great deal if you live in a well-connected city where you can typically get those speeds for between $40 and $80 a month. But it is a good deal for many living in rural America, particularly since in many of those areas it simply isn't possible to get anything above 10Mbps or even dial-up speeds.
That is why Starlink has specifically targeted rural areas, with their well documented lack of broadband, emailing customers that have expressed an interest in its service this week with additional details.
In roughly 40 per cent of rural America, there is no broadband connection by modern standards: something that has become of ever greater importance, especially in political circles, during the current pandemic where millions of people are more reliant on internet connections than ever before. Plus many new technologies in industries like farming work most effectively when they have the ability to connect or share data over the internet.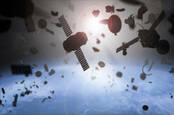 Azure in Spaaaaaaaaace: Microsoft signs up with SpaceX's satellite net constellation Starlink
READ MORE
And so while the $99 a month is a lot of money, in many cases it will be the only way to get a decently fast internet connection and so will likely be worth it. In many cases where broadband access actually is available, Starlink's service will also be cheaper, at least in terms of dollars-per-Mbps.
In stats from Broadband Now, which closely tracks this issue, the cost of DSL in rural areas of the US is between $1.50 and $2.50 per Mbps. Starlink said its service will offer between 50Mbps and 150Mbps - which means a cost of between 66 cents and $2 per Mbps. In other words, cheaper in many cases.
There are other issues however: Starlink customers would have to stump up a hefty $499 for the equipment needed to make it work: a phased-array user terminal (that the company hypes as "more advanced than what's in fighter jets"), a mounting tripod and a Wi-Fi router. That a steep upfront fee and a degree of lock-in to Starlink's service.
Latency
And then there's the latency issue. Starlink said that it "expects to see… latency from 20ms to 40ms over the next several months as we enhance the system."
That range is basically the same as that currently experienced in rural states. Broadband Now's most recent quarterly review puts Alaska at 51ms and Oregon at 20ms, with most states with large rural areas somewhere in the middle (Oklahoma 30ms; Utah 35ms; Montana 46ms).
But there is perhaps a level of confidence within SpaceX that it will hit that target because its email also said "as we launch more satellites, install more ground stations and improve our networking software, data speed, latency and uptime will improve dramatically. For latency, we expect to achieve 16ms to 19ms by summer 2021."
The biggest problem? A recognition that "there will also be brief periods of no connectivity at all." No one wants to pay $499 upfront and $99 a month just to see their connection repeatedly die.
However, if you take Starlink at face value, the pricing says one thing very clearly: it is indeed the most viable and cheapest solution right now - and likely for the next five years - for rural America to get decent internet speeds.
Expert view
We asked Broadband Now for its thoughts and editor-in-chief Tyler Cooper told The Register: "Starlink's 'Better Than Nothing Beta' is priced at $99. However, the company has not confirmed that this will be the retail price for the commercial service itself when it launches, and I'm not overly confident it will be.
"The initial network performance claims are interesting, and SpaceX indicates that they expect latency and speeds to 'improve dramatically,' so I remain hopeful that the service will prove to be a tangible alternative for Americans who've been long-overlooked by the wired broadband market."
Starlink does have one big advantage, even at $99 a month: it's real, unlike the constant promises by the cable industry, regulators like the FCC and even Congress, who have promised rural areas fast internet access for a decade and so far failed to deliver.
It is no coincidence that just today the FCC passed both a 5G fund and a new proposal to use TV white spaces - both of which can also be used to provide fast internet access to more remote areas - and lauded them as a way to bridge the digital divide.
It's almost as if the threat of losing business to companies like Starlink has spurred the cable industry, and the regulatory framework that cossets it, into action at last. ®