This article is more than 1 year old
Trump's official campaign website vandalized by hackers who 'had enough of the President's fake news'
Well, that narrows down the list of suspects to just a few billion people
Donald Trump's presidential campaign website was briefly hacked and defaced tonight.
The site, donaldjtrump.com, was replaced with a message parodying the domain-name seizures typically announced by Uncle Sam's agents against crooks and terrorists. It claimed, alongside US government seals, "this site was seized" because "the world has had enough of the fake news spreaded [sic] daily by President Donald J Trump."
The website was returned to normal about 30 minutes after people noticed the vandalism at around 1630 PT (2330 UTC). This comes after the President declared "nobody gets hacked" unless it's by "somebody with 197 IQ and he needs about 15 percent of your password." It also follows more serious advisories by Homeland Security and the NSA on the vulnerabilities being exploited by miscreants to break into government and corporate networks.
Here's what Trump's hijacked website looked like: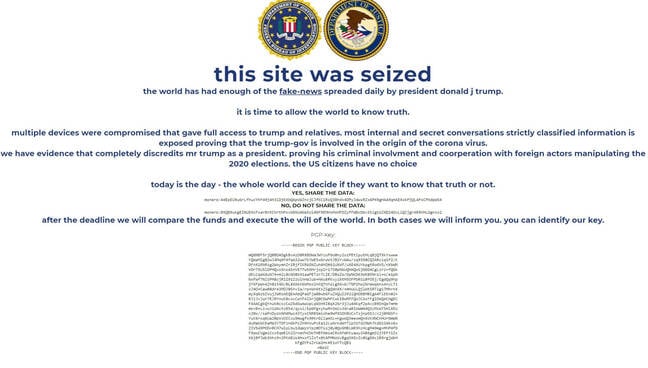 Click to enlarge
The defaced dotcom invited netizens to donate Monero digital currency to two wallets to either vote for or against the leak of evidence that supposedly discredits the President, a ruse to harvest crypto-coins from people, we suspect. The page also claimed "multiple devices were compromised that gave full access to Trump and relatives," among other wild allegations.
A spokesman for the Trump campaign told NBC News the "website was defaced and we are working with law enforcement authorities to investigate the source of the attack," adding: "There was no exposure to sensitive data because none of it is actually stored on the site. The website has been restored."
America goes to the polls this November 3, an election that will decide who is President for the next four years: incumbent Republican Donald Trump, or Democratic nominee Joe Biden. ®