This article is more than 1 year old
AMD claims high-end Big Navi Radeon GPUs leave Nvidia's ray-tracing cards in the dust
If you don't want to wait for new stock or splash out on the RTX 30 series, consider AMD's RX 6000s
AMD showed off three new graphics processor units for PC gamers on Wednesday, claiming its chips offered better performance than the ones in Nvidia's latest GeForce RTX 30 line.
If you missed CEO Lisa Su's presentation, you can catch it below. In the short but sweet video, Su holds up a square metal-encased chip.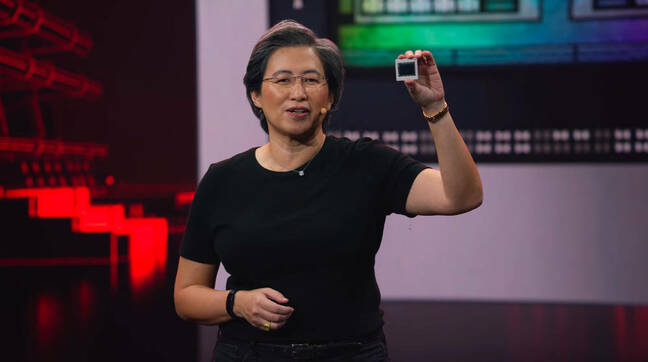 Lisa Su shows off Big Navi. Source: AMD
"Today is all about the 'Big Navi'," she said, referring to the company's 7nm TSMC-fabricated die. The GPU is at the heart of AMD's Radeon RX 6000 series, which comes in three configurations: RX 6900 XT, RX 6800 XT, and the more basic RX 6800.
They all have the same PCIe 4.0 technology, 16GB of onboard GDDR6 memory and have 128MB of cache memory, but different amounts of compute units and clock speeds.
RX 6900 XT is AMD's most powerful GPU to date with 80 compute units, 300W of power, and up to 2,015MHz of game clock speed. Designed to go neck and neck with Nvidia's GeForce RTX 3090 chip, AMD said its RX 6900 XT was able to render more frames per second at 4K than its competitor in some of the most popular titles, like Call of Duty: Modern Warfare and Battlefield V. It costs $999 (~£769) and is expected to be released on 8 December.
RX 6800 XT is pretty much identical to the RX 6900 XT, except it has 72 compute units instead of 80. The frames per second rate is pretty comparable and often exceeds Nvidia's GeForce RTX 3080 for top games in 4K and 1440p quality. Buyers will have to wait until 18 November to get their hands on AMD's mid-range option and be prepared to fork out $649 (~£500).
RX 6800 has 60 compute units, 250W of power, and a game clock speed of 1,815MHz. It's a bit more difficult to see how this one stacks up against Nvidia's lower-end GeForce RTX 3070, however, since AMD only provided comparisons against the 2080Ti, Nvidia's previous generation of GPUs.
All three Navi-based GPUs support the latest RDNA2 microarchitecture to accelerate ray-tracing and shading features needed to render pixels. Su said that RDNA2 offers a boost of about 50 per cent performance per watt compared to its previous RDNA architecture.
Laura Smith, AMD's senior director of Radeon Technologies Group, said RDNA2 provides 2.17X more bandwidth to support 4K gaming, a power increase of 0.9X, and 30 per cent more frequency.
RDNA2 has new features, including the ominously named Rage Mode to provide an extra boost of performance when its GPUs start to overclock as well as Smart Access Memory.
"It gives AMD Ryzen processors greater access to the high-speed GDDR6 graphics memory, accelerating CPU processing," AMD said. ®