This article is more than 1 year old
Trump administration proposes H-1B visas go to highest-paid workers first
Scheme to encourage hiring pricey brainiacs instead of cheap footsloggers
The Trump administration has proposed changes to the H-1B visa that will see it abolish the current lottery process and instead prioritise highly paid workers.
"Modifying the H-1B cap selection process by replacing the random selection process with a wage-level-based selection process is a better way to allocate H-1Bs when demand exceeds supply," says a Department of Homeland Security (DHS) announcement of the proposed policy.
"If finalized as proposed, this new selection process would incentivize employers to offer higher wages or petition for positions requiring higher skills and higher-skilled workers instead of using the program to fill relatively lower-paid vacancies."
By prioritising allocation of H-1B visas to highly paid workers, the administration hopes to stop businesses importing workers who are wiling to accept lower wages than American workers, and therefore raise wages for Americans.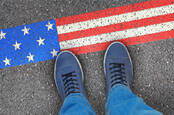 President Trump's H-1B visa crackdown wiped $100bn off market value of America's largest corps, top study finds
READ MORE
"The H-1B program is often exploited and abused by U.S. employers, and their U.S. clients, primarily seeking to hire foreign workers and pay lower wages," said Acting DHS Deputy Secretary Ken Cuccinelli. "The current use of random selection to allocate H-1B visas …. fails to leverage the H-1B program to truly compete for the world's best and brightest, and hurts American workers by bringing in relatively lower-paid foreign labor at the expense of the American workforce."
The full text [PDF] of the proposed rule says that the H-1B allocation process would start by considering applications to bring in workers in the highest of four wage bands, then cascade down through the bands to consider lower-paid workers if visas from the annual pool remain available.
The document also suggests that economic benefits could possibly include:
A better chance of attracting skilled and highly paid workers to apply for the H-1B, plus the prospect of higher wages for visa applicants because paying them more would rank them more highly as visa applicants;
Increased job opportunities for lower-skilled US workers who would otherwise have to compete with H-1B visa-holder;
Increased wages for H-1B recipients whose earnings fall into middling earning bands.
But the document also points out that the change could be problematic.
"This proposed rule is expected to reduce the number (unquantified) costs of petitions for lower wage H-1B workers," it states, adding: "This may result in increased recruitment or training costs for petitioners that seek new pools of talent. Additionally, petitioners' labor costs or training costs for substitute workers may increase."
"DHS also acknowledges that some petitioners might be impacted in terms of the employment, productivity loss, search and hire cost per employer of $4,398, and profits resulting from labor turnover." The document also suggests the new scheme will cost about $15m a year to administer.
This new selection process would incentivize employers to offer higher wages instead of using the program to fill relatively lower-paid vacancies
With pollsters predicting that the Republican Party will lose control of the Presidency and Senate at next week's US elections, the policy may soon be irrelevant. The Democratic Party's Platform [PDF] makes a single reference to the H-1B visa, as follows:
"Democrats oppose President Trump's illegal, chaotic, and reckless changes to the legal immigration system, including decisions to slash family-based immigration as well as H-1B and other visa programs that can help our economy."
The platform also promises "to build a 21st century immigration system that embodies our values, expands economic opportunity for all Americans, and enhances our global competitiveness."
Which appears to be the same goal as this new H-1B plan. ®