This article is more than 1 year old
SiFive inches closer to offering a true RISC-V PC: Latest five-core dev board includes PCIe, SSD interfaces
Plus 8GB RAM, USB, gigabit Ethernet, mini-ITX form, etc... and competition from Microchip
Updated SiFive will today unveil its latest developer board, which edges the startup closer to offering what you might consider a fully-fledged RISC-V desktop PC.
The modestly named HiFive Unmatched is a follow-up to 2018's now sold-out HiFive Unleashed. If you missed out on getting an Unleashed system, here's your chance to bag an Unmatched. There are some key differences between these 64-bit RISC-V-compatible siblings.
The Unmatched uses SiFive's five-core FU740 system-on-chip whereas the Unleashed used its five-core FU540 SoC. The FU740 contains four RV64GC U74 CPU cores, and one RV64IMAC S7 core intended for system maintenance tasks, which are more advanced than the four U54 cores and single E51 core in the FU540.
SiFive is keeping the processor clock speed of the Unmatched's FU740 a secret until the board ships, though given both the FU740 and the FU540 are fabricated using TSMC's 28nm node, we would be surprised to see the Unmatched's maximum clock speed fall below the Unleashed's max frequency of 1.5GHz.
The Unmatched features a PCIe 3 slot for expansion, allowing people to experiment with adding PCIe-compliant hardware, such as compatible AMD and ATI graphics cards – driver code exists to do this, we note. The board also includes two M.2 interfaces, one for plugging in an NVMe SSD, and the other for a Wi-Fi and/or Bluetooth module.
The Unleashed did not provide PCIe nor M.2 interfaces, though it could take a $2,000 expansion board from Microchip that added, among other things, PCIe, SSD, and SATA connectivity. That upgrade allowed people to construct RISC-V PCs with HDMI graphics output. If that was possible with the Unleashed, it should be possible with the Unmatched.
To be blunt, the Unmatched is mostly a combination of the Unleashed and its expansion board, with improved CPU cores and system-on-chip, and a much lower price tag. You could build a desktop PC out of the Unleashed and its expansion kit, and so you should be able to do the same with an Unmatched system.
Designed to fit into a PC case, the Unmatched is a mini-ITX-sized board with an ATX 24-pin power connector. Here's an overhead view of the gear, which ships with an ATX case mounting standoff among other bits and pieces: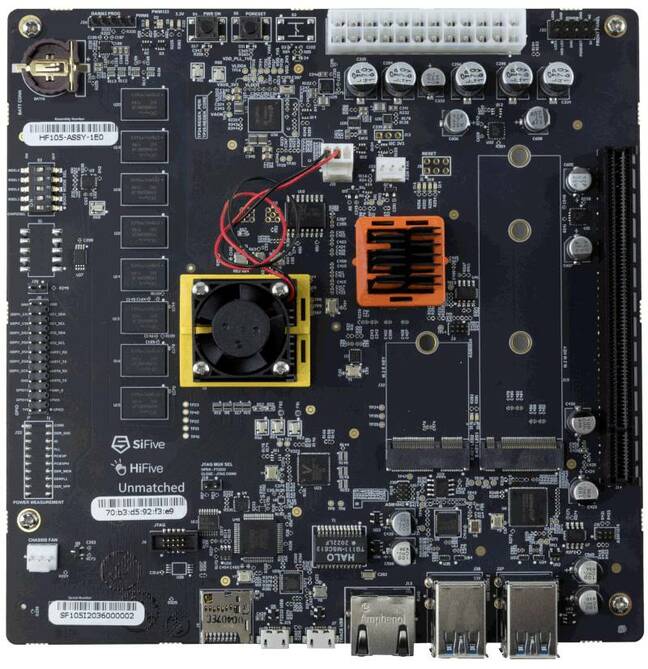 The SiFive Unmatched board ... Click to enlarge
Each U74 superscalar CPU core in the Unmatched uses an eight-stage in-order dual-issue pipeline with 32KB of L1 instruction cache and 32KB of data cache. These cores run your application and operating system code. The S7 monitor core, also an in-order eight-stage affair, has 16KB of instruction cache and an 8KB block of built-in RAM for holding data. This core is intended to be used for performing background system tasks or real-time work, and is typically disabled by the Linux kernel on boot, though low-level programmers can make use of it. The FU740 system-on-chip, like the FU540, has 2MB of coherent L2 cache built in.
It should be said that the HiFive series are single-board computers aimed at developers and engineers producing RISC-V-based products or evaluating the fledgling architecture, or above-beginner enthusiasts who have money to burn and want to tinker. You can boot Debian or Fedora GNU/Linux on the Unmatched, for instance, or any other OS ported to the hardware, install packages, compile software, run code, and so on. Among other things, it's intended to introduce people to the instruction set architecture and get them used to creating or porting software for it.
The Unmatched's main rival, as far as we can tell, is Microchip's PolarFire Icicle board, which features a system-on-chip designed by Microchip that uses CPU cores licensed from SiFive plus an on-die FPGA. You'll need a Libero silver license from Microchip to make use of that gate array, which is free for one year, and you may be able to continue renewing that license for free each year.
The Icicle has a quarter of the RAM of the Unmatched; doesn't have M.2 interfaces; provides PCIe 2 rather than 3; isn't a standard size like the Unmatched; and uses SiFive 5-series CPU cores compared to the Unmatched's 7-series. However, it is cheaper and has that FPGA built in, plus two gigabit Ethernet ports.
The PolarFire system-on-chip is clocked at 600MHz, and has 8GB of on-board mass storage whereas the Unmatched relies on you providing a microSD and/or an SSD for storing your operating system and files. In our view, the Icicle is aimed at people who want to experiment with an FPGA and dual 1GbE networking with RISC-V cores on the side – a specialist setup, in other words – whereas the Unmatched is aimed at people who want to build and evaluate applications on a generic but capable RISC-V platform.
Below is a table comparing the SiFive and Microchip boards' main features, price tags, and availability; check their datasheets for the full specifications.
 
HiFive Unmatched
PolarFire Icicle
HiFive Unleashed
SoC
SiFive FU740
Microchip PolarFire
SiFive FU540
CPU cores
4 x RV64GC U74
1 x RV64IMAC S7
4 x RV64GC U54
1 x RV64IMAC E51
4 x RV64GC U54
1 x RV64IMAC E51
RAM
8GB DDR4
2GB LPDDR4
8GB DDR4
Storage
32MB SPI flash
microSD slot
NVME M.2 (PCIe 3)
8GB eMMC flash
or SD card (multiplexed)
1 Gb SPI flash
32MB SPI flash
microSD slot
IO
PCIe 3 x8
4 x USB 3.2
microUSB console port
GPIO, UART, PWMs
PCIe 2 x4
RPi-compatible connector
microUSB, UART, CAN
microUSB console port
GPIO, UART, PWMs
Expansion connector
Networking
1 x gigabit Ethernet
2 x gigabit Ethernet
1 x gigabit Ethernet
FPGA
-
254K logic elements
784 math blocks
-
Price
$665
$499
$999
Available to order
Q4 2020
Now
Discontinued
Finally, we're told China-based H3C has taped out and fabricated a dual-core system-on-chip using SiFive's 7-series CPU designs on TSMC's 16nm process node. This prototype silicon, designed for 400GbE networking applications, was able to max out at 3.2GHz in a lab earlier this year, and ran stable at 2.2GHz.
SiFive is due to discuss its Unmatched board today at the 2020 Linley Fall Processor Conference. You can find more details here. ®
Updated to add on December 8
SiFive has doubled the RAM on the Unmatched to 16GB at no extra cost, and says it will ship the boards in Q2 2021.
PS: If you want to boot and toy with RISC-V Linux in your web browser, check this out.