This article is more than 1 year old
Remember, remember, the 14th of November (if you're an astronaut): NASA names the date for Crew-1 mission to ISS
Also: ESA looks to the Moon, RocketLab launches another 10 sats, and SpaceX probably thinks that's cute
In brief NASA has stuck a pin in 14 November (15 Nov for those running on GMT) for the launch of the first crew rotation mission to the International Space Station (ISS) to be launched from US soil.
The four-person crew is also the largest to be loaded into a spacecraft since the Space Shuttle was retired.
The mission had been pushed back due to an investigation following the aborted launch of Falcon 9 carrying a GPS satellite earlier this month. In the briefing, managers explained that material blocking a valve in the engine's gas generator was the culprit, which triggered the last-second abort. The material itself, a lacquer similar to nail polish, should have been removed, but a tiny amount remained: enough to abort the launch.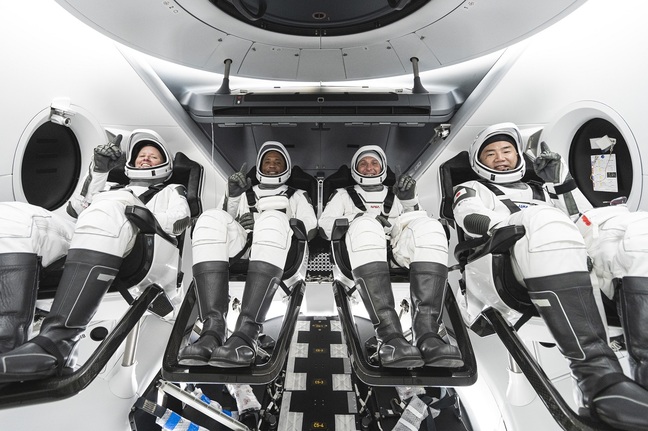 From left, Shannon Walker, Victor Glover, Mike Hopkins, and Soichi Noguchi (pic: SpaceX)
SpaceX will have an opportunity to launch a couple of Falcon 9s before loading NASA astronauts Michael Hopkins, Victor Glover, and Shannon Walker, along with Japan Aerospace Exploration Agency (JAXA) mission specialist Soichi Noguchi into the Crew Dragon. It will have another crack at launching that GPS satellite on 4 November, followed by Sentinel 6 (Michael Freilich) on 10 November from California's Vandenburg Air Force Base.
ESA takes aim at the Moon
ESA director general Jan Wörner and NASA administrator Jim Bridenstine have signed off on a deal that will see ESA contributing modules and other components to the Gateway space station, destined for lunar orbit.
The agreement will allow for three spots to be opened up for European astronauts to travel to and work on the Gateway itself in return for the hardware, which includes at least two of the ATV-derived service modules that will keep Orion astronauts alive on their journey to and from the outpost.
More service modules will be needed to meet the lunar ambitions of the agencies involved in the Gateway, meaning there is every chance more European astronauts might get their turn for a spin around the Moon.
The Memorandum of Understanding had to be signed remotely due to the pandemic and marks ESA's years of involvement in NASA's Artemis programme. Highlighting the impending 20th anniversary of human occupation of that other great space-based example of international cooperation, Wörner said: "Sustainable space exploration requires coordinated, international efforts and Europe has proven itself a strong and reliable partner."
Rocket Lab notches up its 15th successful launch
Rocket Lab has successfully launched its 15th Electron mission, bringing ever closer the moment space fans can expect to see parachutes pop out of a descending rocket.
The mission, dubbed "In Focus", was launched from the company's complex at Māhia Peninsula in New Zealand, and left the Earth at 21:21 UTC on 28 October. Ten commercial satellites were deployed into 500km circular orbit, including Canon Electronic's CE-SAT-IIB microsatellite.
CE-SAT-IIB had already been scheduled when its predecessor was lost in July's mishap. A return to flight in September saw the company unveil the "First Light" Photon technology demonstrator (effectively an enhanced version of the company's Kick Stage) after the commercial portion of the mission was complete.
The 16th Electron launch is scheduled to take place from Launch Complex 1 in the coming weeks.
There and back again with SpaceX
SpaceX gave the world an idea of what the Starlink service was going to cost (at least initially) last week, days after it sent another batch of 60 of the sky-trashing satellites into orbit.
The Falcon 9 first stage had previously seen action launching a GPS satellite in June, as well as a September Starlink mission, and took off from Space Launch Complex 40 at Florida's Cape Canaveral Air Force base. The 100th successful launch of a Falcon 9 took place at 15:31 UTC on 24 October.
The mission had been delayed following an abort during the countdown "to allow additional time for mission assurance work," according to SpaceX. The company's boss, Elon Musk, elaborated that it was "just a small-seeming issue with loss of upper stage camera."
Better safe than sorry and, in a manner that should never be regarded as "routine", the booster guided itself to a successful landing on the "Just Read the Instructions" drone ship following launch.
The next Starlink launch is currently expected in November. ®