This article is more than 1 year old
Luke Skywalker used to bullseye womp rats in his T-16 on Tatooine. But Star Wars: Squadrons misses the mark
Sadly, the space opera franchise's first proper starfighter game in yonks just isn't that good
The RPG Greetings, traveller, and welcome back to The Register Plays Games, our monthly gaming column. It's time to lock S-foils in attack position because we're checking out Squadrons, EA's attempt at a dedicated Star Wars space combat game, and the first in the genre to grace the galaxy far, far away for a long time.
Everyone loves a bit of Star Wars, right? When I was a kid in the '90s, it was the best thing I'd ever seen – right up until Peter Jackson's Lord of the Rings trilogy from 2001. Without the benefit of nostalgia for the originals' theatrical run, I thought the prequels were OK too.
Things have cooled off since. Lucasfilm was bought by Disney in 2012, and Mickey Mouse became custodian of the space opera franchise. Granted, Disney has done a decent job turning Marvel Comics' IP into a cultural sensation so there was hope that consequent new films might finally do the series justice. We all know how that went – not great, not terrible, but certainly falling below fans' sky-high expectations.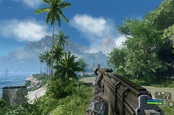 Can The Register run Crysis Remastered? Yes, but we don't see why you would want to
READ MORE
Of course, films aren't the only place where that galaxy far, far away resides. Although Disney all but shuttered Lucasfilm's game development limb in 2013, LucasArts churned out a bunch of classic games over a variety of genres in its prime, including many set in the Star Wars universe.
Titles in the X-Wing space flight sim series, the 1993 debut of which can be played in a browser here, were firm favourites, and Rogue Squadron (1998) on Nintendo's N64 console was also excellent. The Jedi Knight games cashed in on the '90s popularity of first-person shooters, while a collaboration with BioWare resulted in Knights of the Old Republic (2003), which remains a celebrated entry in the RPG veteran's oeuvre. We could go on.
Electronic Arts gained the licence to make Star Wars games after LucasArts was closed and set about rebooting the Battlefront shooter series in 2015, with a sequel following in 2017. The Souls-like Jedi: Fallen Order arrived in 2019, but until now that original basis of space flight sims – surely ripe pickings for a sci-fi universe with so many iconic ship designs and prominent space battles – has been sorely neglected.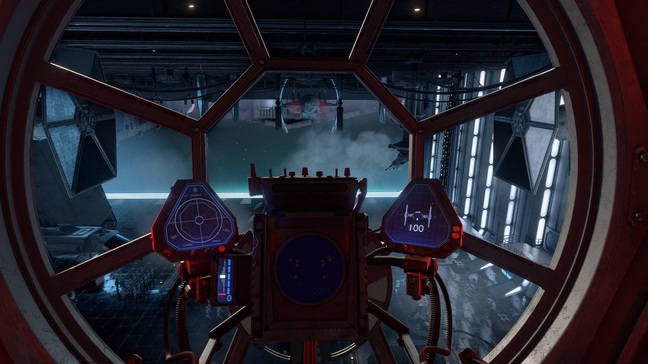 TIE Fighter cockpit
Though the recent Battlefronts both featured starfighter-oriented modes, they were typically underdeveloped. Squadrons, made by EA's Motive Studios and released early this month, is the publishing behemoth's first attempt at a ship combat Star Wars game, and the first proper ship combat Star Wars game in… well, almost two decades.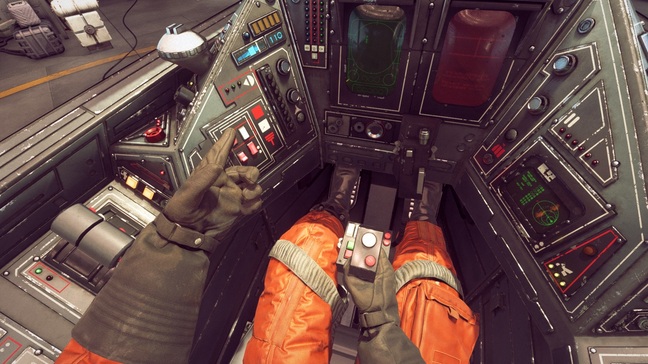 X-Wing flight check
Is it up to snuff? The issue seems to lie in the fact that, much like 2015's Battlefront, Squadrons comes across as multiplayer-focused. This wouldn't be a problem if the gameplay didn't feel so flat.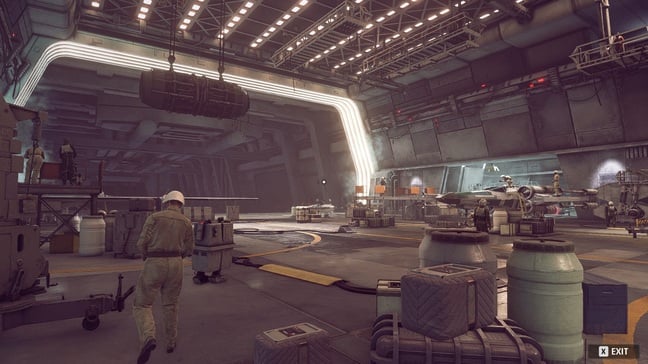 New Republic hangar
As a reboot of a hugely popular series bringing nigh-on photorealistic graphics to the original trilogy era, Battlefront's announcement was initially met with celebration – though the actual reception was rather more muted when players realised that all modes revolved around team-based blaster combat. The error was rectified with the sequel, which introduced a short (under 10 hours) single-player story about a tortured Stormtrooper having a crisis of faith in the Empire, while devoting the rest of the game to Battlefield-style, objective-oriented multiplayer.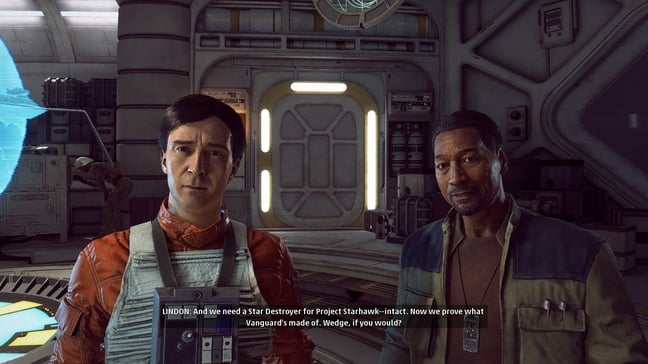 Rogue Squadron ace Wedge Antilles makes an appearance
Obviously the omission of a single-player campaign struck a nerve with fans, and EA has learned its lesson for Squadrons, but that hasn't stopped the story feeling like anything more than an eight-hour tutorial.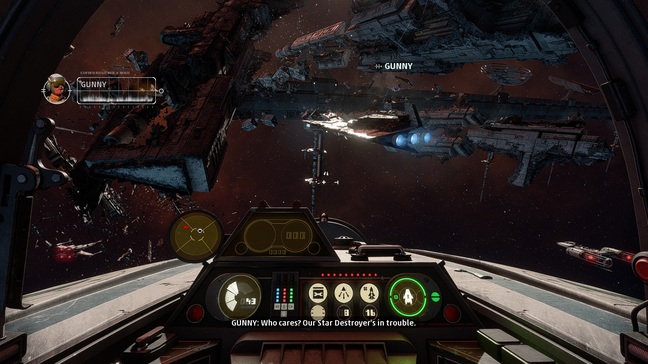 Flying an A-Wing into battle
To sum up, the game pits two hotshot starfighter units against each other – Vanguard Squadron for the Rebellion "New Republic", and Titan Squadron for the Empire (that "First Order" thing is yet to surface, it seems) – and the campaign levels are split between the two warring factions. Imperial officer Lindon Javes feels bad that the Empire seems to kill innocents for kicks sometimes, and so he defects during an operation to slaughter refugees from the destruction of Alderaan, disabling his squadron's TIE Fighters to escape.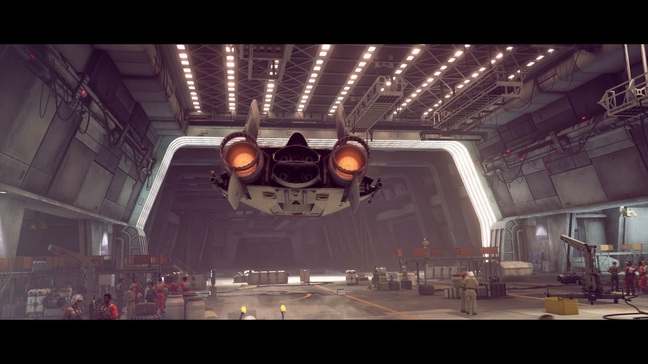 An A-Wing takes flight
Years down the line following the Battle of Endor, he's a New Republic commander using his knowledge of Star Destroyers to develop a countermeasure dubbed Project Starhawk, which is basically a huge flying tractor beam that can punt the Imperial battleships into moons.
The player takes the role of a rookie pilot assigned to either Vanguard or Titan, depending on who's the star of the show for each level, and the game is mainly a bit of back-and-forth between trying to defend or disrupt the Starhawk project.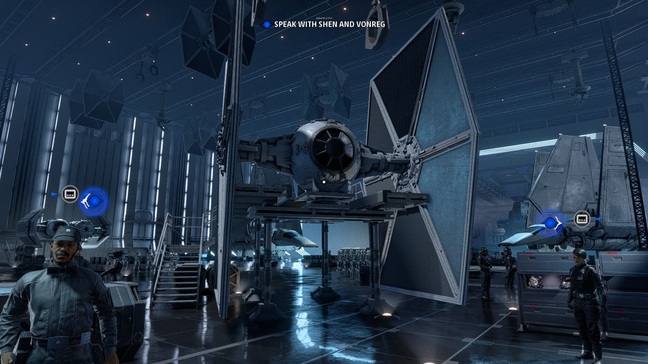 Imperial hangar
Between flights, you can inspect your craft and talk to squadron mates to get a bit more background if you can be bothered sitting through their life stories, before heading into the inevitable briefing on the operation of the day. The benefit of splitting the game between Vanguard and Titan is that the Imperials get a rather more decent showing than usual. Though Motive comes so close to depicting some moral ambiguity among grunts of the eeeevil Empire, your wingmen more often than not come across as assholes. So that's that.
Tangling with Imperial frigates
But on to the gameplay. There are four classes of ships, which break down into Fighter (the capable workhorses X-Wing and TIE Fighter), Interceptor (the fast and manoeuvrable A-Wing and TIE Interceptor ideal for taking out other starfighters), Bomber (Y-Wings and TIE Bombers, slower but packing an explosive punch), and Support (U-Wing and TIE Reaper, which resupply and defend friendly ships while disrupting enemies).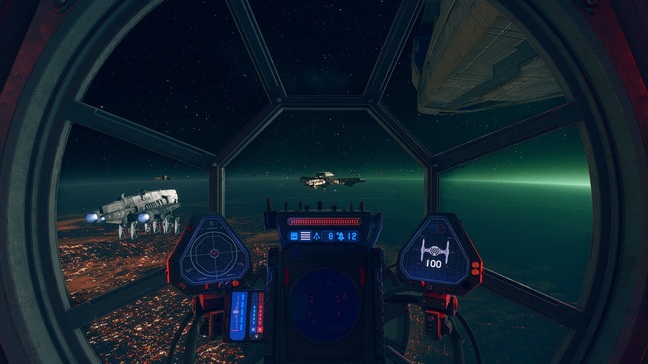 Imposing law and order for the Empire
Flying the ship takes cues from the entire history of space flight sims. As a big fan of Elite Dangerous (I also enjoyed the Wing Commander-inspired Rebel Galaxy Outlaw), diverting power between engine, weapons, and shield systems according to need came naturally to me, but it's not particularly original. You can pull off sweet drifts to get back into the action quickly following a boost by turning hard and pressing a button, and shields can be concentrated towards the front or rear of the craft depending on where fire is coming from. That's about as exciting as it gets.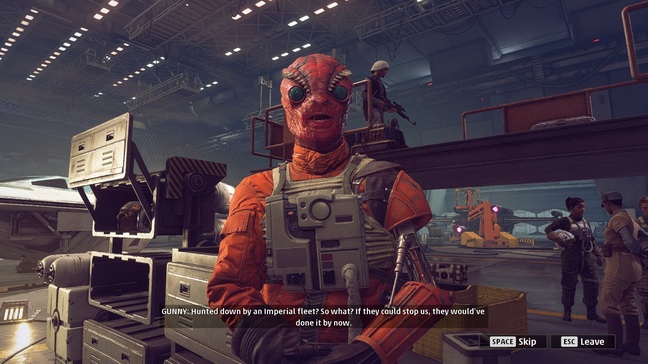 One of your Vanguard wingmen
You can see where this is going – competent pilots choosing a balanced mix of ship types should prevail in the objective-based Battlefield-in-space mode, called Fleet Battles, a sort of tug-of-war where each team whittles down large frigates before breaking through to the enemy's flagship. The single-player mode will make you try each starfighter when the story calls for it, otherwise you'll be told to select another if there are too many of one type on a multiplayer team.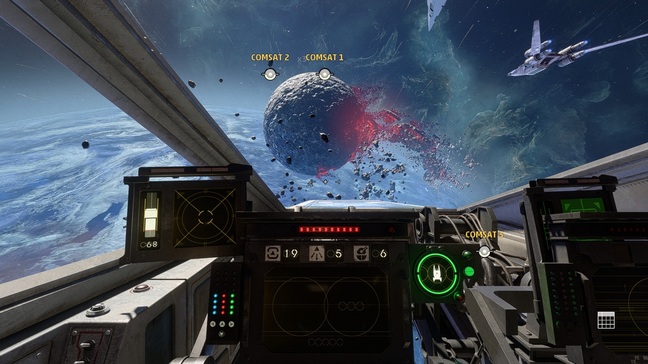 Some of the scenery is fantastic
Unfortunately, the on-rails nature of the campaign didn't exactly fire me up for the multiplayer. Aside from the "flagship" (excuse the pun) mode Fleet Battles, there's Dogfight, which is just team deathmatch around a space station with lots of nooks and crannies to dip in and out of. Surprisingly, this is the only other mode, which leaves the game feeling half-baked. There's clearly a skill ceiling in terms of manoeuvres, strategies, and tailoring your fighter with favoured weapon and shield variants, but matches end up feeling the same, and I simply wasn't interested in devoting the hours to "git gud".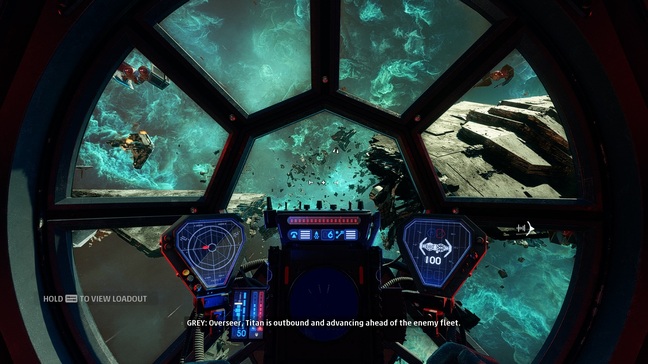 A Star Destroyer graveyard
The New Republic also seems to win every time. Although canonically TIE Fighters aren't equipped with shields, they have all the hull integrity of a paper aeroplane under the laser beam of a decent X-Wing or A-Wing pilot. Any work done to balance things out isn't readily apparent.
There's plenty to like about Squadrons, but it's also hard to screw up with Star Wars. The sound design is pitch perfect, and there's something undeniably neat about climbing into the cockpit of an X-Wing or TIE Fighter on the tremendously powerful Frostbite 3 engine and hearing the engine purr, the cannons pulse.
The graphics can't be faulted. If you stop to soak in the scenery between bouts of laser cannon fire, you'll see Motive has taken utmost care with its depictions of stars and nebulae, crumbling planets and rickety space stations, as well as the decades-old iconography so beloved by generations of fans. It should be noted too that, on PC, performance was excellent.
But the game could have benefited from more variety. All encounters and missions take place in space, so maybe some planetside assaults – the bread and butter of Rogue Squadron – would have helped to break up the monotony and provide a basis for further modes. Also, why didn't Motive go full fan service and recreate the battles of the original trilogy? Another missed opportunity.
People who put "Jedi" under religion in the census will probably go mad for Squadrons, but everyone else should look elsewhere if they want a truly great space combat game or sim. Fortunately, you get what you pay for. ®
Bonus round!
In general gaming news, Polish developer CD Projekt Red (CDPR) this week admitted that the much-anticipated Cyberpunk 2077 would be delayed for a third time despite the game being declared "gold" (ready for production or "finished") in October. The first-person RPG originally had a release date of 16 April, which then became 17 September, which then turned into 19 November, which is now 10 December.
We have important news to share with you pic.twitter.com/qZUaD6IwmM

— Cyberpunk 2077 (@CyberpunkGame) October 27, 2020
Not only does it mean we're not sure what to write about for next month's column, but it also misses the release of Sony and Microsoft's next generation of consoles, the Playstation 5/Pro and Xbox Series S/X.
The reason given was the amount of testing needed across different platforms. We're at an odd juncture where generational boundaries are blurring as consoles start to look more and more like PCs, and backwards compatibility is the order of the day. CDPR said: "The biggest challenge for us right now is shipping the game on current-gen, next-gen, and PC at the same time, which requires us to prepare and test 9 versions of it... while working from home."
This will be great news for Ubisoft, which is set to release the viking adventure Assassin's Creed: Valhalla on 10 November. See you next month.