This article is more than 1 year old
Apple on the hook for another $503m in decade-long VirnetX patent rip-off legal marathon
Guess what? It's going to appeal. Again again. Again. Again
Apple has to pay another $502.8m to network security outfit VirnetX for infringing its patents, a court has decided.
The award [PDF] is just the latest in a decade-long legal battle that Apple has gone to enormous lengths to stretch out. Every substantive ruling has gone against Apple, though it has adopted a strategy of questioning every single aspect of the case.
It will be the same this time, with Apple saying immediately after the decision that it will appeal. "We thank the jury for their time and appreciate their consideration but are disappointed with the verdict and plan to appeal," a spokesperson said, adding: "Cases like this only serve to stifle innovation and harm consumers."
The $503m award comes after Apple was finally forced, in March this year, to pay the $454m awarded against it a decade earlier for infringing video-conferencing patents on older versions of the iPhone. In that case, the award was appealed all the way up to the Supreme Court (which refused to hear the case).
Even after it had paid the money, however, Apple kept filing paperwork with the court arguing it should be paying less. The judge threw the argument out; not for the first time.
In this latest ruling, which covered the same patents but in more recent version of the iPhone, Apple was told in a 2018 trial to pay $502.6m for infringing four of VirnetX's patents, a sum that increased to over $600m with interest and costs after Apple stretched out the legal fight. But then that award was vacated after Apple won one of its small number of victories in the battle and the federal circuit decided only two of the four patents had been infringed.
Here we go again
The judge decided the case had to be reheard. So it was, all over again. And the exact same figure was arrived at. Given that the jury spent just 90 minutes deliberating and arrived at a 84 cents-per-device award, it's fair to say that the same-sum award was a message in itself: just pay what you owe. During the trial, however, VirnetX argued that Apple owed it $718m and Apple said it only owed $113m.
What makes the case even more bizarre is that the patents themselves are also under fire: Apple has run a parallel and equally aggressive legal battle trying to invalidate VirnetX's patents and has been more successful than in the infringement case.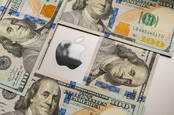 Patently dogged: Apple unleashes lawyers to slash $454m patent rip-off bill – even after Supreme Court snub
READ MORE
In July, the Patent Trial and Appeal Board found that the two VirnetX patents behind the entire case are invalid. VirnetX has, of course, appealed that decision. But Apple is still on the hook for infringing them when they were valid (and may still be found to be valid).
Both sides have different reasons for fighting so bitterly for so long. Apple has almost unlimited resources and has taken exception to VirnetX's lawsuit - Apple views the company as little more than patent troll. It is also an exceptionally stubborn company and redesigned how its FaceTime video conferencing service worked to avoid paying royalties, even cutting off some of its own users, who then sued. (It eventually settled.)
When VirnetX then sued Apple again saying its patents were still being infringed in the new reformed version of FaceTime - and won - Apple was apoplectic.
Dysfunction
For VirnetX, the case represents essential income. Its own Gabriel cloud collaboration software has not taken off and so it is reliant on royalty income. Getting companies like Microsoft and Apple to pay royalties is often difficult, if not impossible, without suing them. So it has sued - and has won each time - it settled with Microsoft in 2010 for $200 million.
But VirnetX in many respects does now act somewhat like a patent troll, doing very little except pulling in royalties. And according to a complaint filed by a VirnetX investor in June, the company is not exactly a shining example of governance. The complaint claims that the CEO's family account for a fifth of its 21 employees and that the company is "plagued by nepotism, waste, and corporate governance failures."
Stockholder Neal Hurwitz said he intended to hold VirnetX "accountable for years of self-dealing and knowing misstatements" and accused the company's executives of overpaying themselves and accused CEO Kendall Larsen of running it "as a personal piggy-bank." VirnetX has said in response that it is a nuisance lawsuit and is trying to get it struck down.
The importance of the Apple award on VirnetX's future is most apparent on VirnetX's share price. In this case, when the award was announced, it leapt 22 per cent. The same leaps and drops happen each time there is a development in the case. ®