This article is more than 1 year old
South Park creators have a new political satire series with some of the best AI-generated deepfakes on the internet yet
Plus: Watch a self-driving race car drive into a wall, and download the new version of PyTorch
In brief Trey Parker and Matt Stone, best known for their cartoon South Park, have created a new comedy deepfake series called Sassy Justice.
The star of the show, Fred Sassy, is a local news reporter from Cheyenne, Wyoming, with the face of US President Donald Trump. Other notable characters include, erm, "Dialysis King" Mark Zuckerberg. Politicians like former vice president Al Gore and White House family members Ivanka Trump and her husband Jared Kushner also appear. Kushner is portrayed as a man child.
If that sounds completely bonkers, that's because it is. They're all actually deepfakes generated using machine learning algorithms. Their faces have all been superimposed onto the bodies of actors.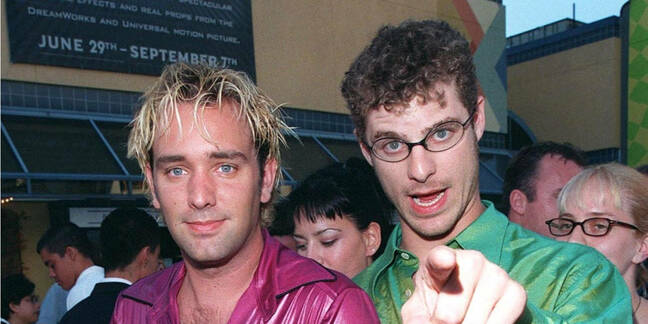 Parker and Stone at a pre-corona premiere
Not only is it pretty funny, the quality of the technology is shockingly good. The transitions and subtle facial expressions are smooth, apart from Zuckerberg who appears as robotic as ever, making it all the more realistic really.
Watch the first episode below.
Oh dear, autonomous car collides into a wall on a race track
A sleek self-driving race car crashed straight into a wall soon after taking off in the Roborace event, a global competition that took place this week.
Roborace specifically tests self-driving technology in motorsport vehicles around a race track. Several teams across the world can enter, but it didn't go so well for Acronis SIT, whose car slammed into a wall. The four-wheeler wasn't going particularly fast or carrying out a tricky maneuver.
You can watch the video and the hilarious commentary here.
Unfortunately, that wasn't the only mishap of the competition. Another car failed to navigate its way around the track, according to Engadget. But there was one that did manage to complete a lap on its own, CNET reported.
Intel to snap up AI upstart SigOpt
Chipzilla has said it is going to acquire SigOpt, a San Francisco-based AI software startup, in an attempt to boost the performance of its machine learning hardware.
Little was revealed about the deal. Intel did not disclose the financial cost, and said it expected it to close later this quarter.
"In the new intelligence era, AI is driving the compute needs of the future," Intel's senior veep, chief architect, and general manager of Architecture, Graphics and Software (IAGS) Raja Koduri said in a statement.
"It is even more important for software to automatically extract the best compute performance while scaling AI models. SigOpt's AI software platform and data science talent will augment Intel software, architecture, product offerings and teams, and provide us with valuable customer insights."
SigOpt will be folded into Intel's Machine Learning Performance team in IAGS.
Election ads on Facebook are more expensive for Biden than Trump
Machine learning algorithms have made the bidding price of political adverts on Facebook cost more when they support US Presidential candidate Joe Biden than his rival, current president Donald Trump.
The Markup estimated the Biden campaign has paid about $2.50 more per 1,000 impressions than Trump. That might not sound like much, but over the course of 1 July to 13 October it meant that Team Biden forked out over $8m more than Trump's campaign.
It's not clear how the social media giant's algorithms determine the cost and there are a lot of factors at play. For example, ads are typically more expensive for both candidates when they target Facebook users living in swing states.
There is no regulation for the cost of political ads placed on social media platforms or websites, unlike on TV where they have to cost the same for both parties.
New version of PyTorch is here
If you're a regular PyTorch user or you're thinking of getting into machine learning then consider downloading the new 1.7 version.
It comes with new features, including support for CUDA 11 and Nvidia's A100 GPU, plus fast Fourier transforms from NumPy to speed up machine learning workloads. You can download it here. ®