This article is more than 1 year old
Trump H-1B visa crackdown hit with legal double whammy: Tech giants, Chamber of Commerce challenge rules
'Foreign-born scientists, engineers, developers of emerging technology, other highly skilled workers' locked out of America
The battle between the tech industry and the Trump administration over work visas continues apace, with no less than 46 tech companies challenging new rules in court, while the US Chamber of Commerce has accused the government of ignoring an injunction against an earlier set of changes.
Apple, Amazon, Facebook, Google, Microsoft, and dozens of other leading tech companies have submitted a joint amicus brief [PDF] against new rules that would increase the minimum wage requirement for H-1B visas to above market levels, effectively blocking immigrant talent from working in America.
The companies argue that the latest criteria will "bar many foreign born scientists, engineers, developers of emerging technology, and other highly skilled workers from obtaining an H-1B visa and as a result will make it much more difficult for amici to hire the employees they need to compete in the global economy."
The rules will also apply to extensions of existing visas – something the companies say will cause "tremendous business disruption" as they are effectively forced to fire workers for not being paid tens of thousands of dollars more than market rates. They warn of knock-in impacts on "our nation's economic recovery and future economic competitiveness."
On the one hand, the likes of Facebook and Apple can afford to pay immigrants the proposed minimum H-1B salary for tech workers, some $208,000 a year. On the other hand, the amicus brief argues America as a whole will suffer as a result of turning away skilled workers, which will "lead to greater reliance by US companies on operations outside of the United States — inflicting long-term damage to our nation's economic growth."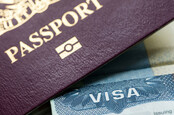 US govt ups minimum H-1B tech salaries to $208,000 a year, more than startups can hope to afford, say VCs
READ MORE
Meanwhile, the US Chamber of Commerce has sued the Trump administration for ignoring a court injunction taken out against previous changes to the H-1B rules.
"Plaintiffs are gravely concerned that Defendant Department of State and its officers and employees have not appropriately complied with this Court's injunction of October 1, 2020," the court filing [PDF] states.
It gives an example of the US consulate in Milan saying it could not approve a visa because it hadn't received clear guidance about the injunction. And it says that applicants for a range of work visas across the world are being told they need to apply for and receive a "national interest exception" before their visas can be processed, effectively continuing to enforce an executive order from President Trump despite the injunction that was issued a month ago.
Processing
The court doc also claims that even those consulates that are accepting interviews are "failing to approve visas on a timely basis, citing a purported need for 'administrative processing' that may take weeks or months to complete."
In other words, the US government is purposefully acting a go-slow when it comes to work visas even though the courts put a temporary stop on rules that were intended to limit the number and approval of work visas, the case claims.
The group wants the court to make "make certain clarifications of its order" in order to make it abundantly clear that such delay tactics are not allowed and it asks the court to force the State Department to hand over docs to see whether "its officers and employees have acted in good faith compliance over the past month."
It's not just the tech industry and business that is opposed to the new rules, either. The American Immigration Lawyers Association has also sued on behalf of various university and higher education institutions, as well as trade associations, claiming that the new requirements "smack of whim and caprice" and will inflict immediate and significant harm.
Among those affected by the new rules will be front-line healthcare workers battling the COVID-19 coronavirus pandemic, they argue, as well as scientists developing a vaccine for the bio-nasty. ®