Lenovo has posted interim results for Q2 and the first half of 2020 and revealed that while clouds builders went on a spending spree, the company's data centre group (DCG) is still making losses.
For the six months ended 30 September, sales to cloud service providers jumped 33 percent, helping DCG grow revenue by 15 per cent year-on-year to US$3.09bn. Sales to enterprises and SMEs grew three per cent, which Lenovo claimed was faster than the rest of the market. But the company described that growth as "sluggish since the start of the COVID-19 pandemic."
"The business was successful in driving double-digit year-on-year sales growth across its four growth segments: software defined infrastructure, storage, software and services," investors were told. Lenovo was also pleased to have sold more services to data centre hardware buyers.
The DCG reported a $105m loss before tax compared to a $103.1m loss a year ago. Investors were told that the company is working to improve the situation. Which is just what Lenovo has been saying almost since the day it acquired IBM's x86 server business.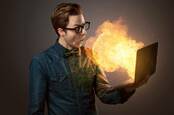 Laptops are on fire! In a good way (if you're selling). PC sales race to highest growth rate since 2011
READ MORE
The PC business fared far better, bringing in $22.07bn of revenue, growing 8.8 percent on a year ago and enjoying growth across the range. Thin-and-light notebook PC sales grew 32 percent year-on year and direct online sales bounced by 47 percent year-on-year. Pre-tax profit jumped 22.7 per cent to $1.393bn.
"The demand tailwind from COVID-19 remained a strong catalyst for growth," Lenovo said. The company revealed last month at the Canalys Forum that component shortages meant that it could not meet customer demand.
Smartphones continued to be a trouble spot, with revenue down 13.3 percent to $2.6bn. A pre-tax loss of $72m was the result compared to a $13m profit in H1 2019, but Lenovo said that was largely caused by "a significant hike in freight and logistics costs due to limited flight capacity". 5G and foldable Razr phones are hoped to turn things around.
Motorola profits were whacked by 'a significant hike in freight and logistics costs due to limited flight capacity'
Overall, the business was in fine shape with total half year revenue up 7 per cent to $27.867bn and net profit up to $596m versus $436m a year ago.
For Q2, Lenovo reported $14.52 of revenue, up 7 per cent and profit of $350m, up 43 per cent. The PC and mobile unit grew to $13.04bn from $12.191bn and DCG was up to $1.478bn from $1.33bn.
The black ink was all attributable to PCs, and while Lenovo is the leader in that field the COVID-19 pandemic created a surprise surge in demand.
Lenovo's interim results announcement [PDF] both recognises that 2020 is a likely outlier, but also suggests Lenovo can maintain its trajectory.
"The fundamental change in consumer behavior and the Group's robust order book, especially for the PCSD business, is a solid proof that long-term structural demand tailwinds will enlarge the addressable market and support future growth," Lenovo told shareholders.
In mobile, the company said it thinks that better performance in North America and Europe will help a return to profitability.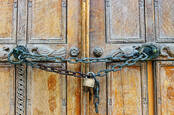 Lenovo to slap ThinkShield security standard for laptop line-up on its Motorola mobiles
READ MORE
And in the data centre group, the company plans to "grow its high-margin services attach rate, upsell premier services and expand hybrid cloud solutions to continue driving a paradigm shift in computing with its edge-to-cloud solutions."
New designs of cloudy kit are expected to help win new business and entice current customers
"Since the outbreak of the pandemic, the Group has been seeing a surge in market interest in its service capability and continues to build a strong pipeline of new orders for Attached Services, Managed Services which includes Device as a Service, and Complex Solutions," the statement said. "The comprehensive Software and Services offerings and well-established e-commerce infrastructure will lead to new growth opportunities." ®