This article is more than 1 year old
Black Lives Matter protester ID'd from Twitter photo via facial-recog system secretly used by US law enforcement
NCRFRILS had never been disclosed publicly – until court case
A protester accused of punching a police officer was arrested after he was identified by facial-recognition software that has not been publicly disclosed before: the National Capital Region Facial Recognition Investigative Leads System (NCRFRILS).
The software is currently employed by 14 local and federal agencies in the US and was revealed in court documents reviewed by The Washington Post. Reports said that the NCRFRILS - apparently a pilot program of the Metropolitan Washington Council of Governments - has run 12,000 searches as of last year, and attempts to match faces against a database of 1.4 million people.
In June, the Trump administration was criticised for using overly aggressive tactics to dispel a group of protesters rallying against the death of George Floyd while the President posed for a photo op. Police and National Guard fired gas canisters and grenades with rubber bullets to clear the way as Trump crossed Lafayette Square, a park near the White House in Washington DC.
One of the protesters alleged to have attacked more than one police officer, supposedly punching one and grabbing another, was singled out by the facial-recognition system. According to charging documents, seen by the paper, a police officer, who recognised the protester's face in a photograph on Twitter, downloaded the image and gave it to the Maryland-National Capital Park Police to identify using NCRFRILS.
According to court documents filed in Washington, it returned a match for a man named Michael Joseph Peterson Jr, who was then later arrested. Law enforcement officials believe the software has matched Peterson correctly because a backpack containing his ID was found where the protests took place.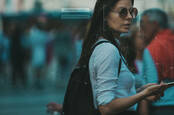 Facial-recognition algos vary wildly, US Congress told, as politicians try to come up with new laws on advanced tech
READ MORE
The use of NCRFRILS by the police has never been publicly revealed before the court case. A spokesperson for the Metropolitan Washington Council of Governments (MWCOG), a nonprofit that led the the facial-recognition software's pilot, told the Post that's because it is still testing its capabilities.
The use of facial-recognition tech in criminal investigations isn't new. Other police forces around the US have employed similar software. But it hasn't always gone to plan; it led to two incorrect arrests in Detroit.
Facial-recognition algorithms are controversial. Studies have repeatedly shown that they tend to struggle with correctly identifying women and people of colour. Experts have called for a moratorium on the technology, and cities have placed stricter restrictions on how local governments and law enforcement can use the technology.
Companies like Amazon, IBM, and Microsoft announced a temporary pause on selling its facial-recognition software earlier this year. ®