This article is more than 1 year old
Feds throw book at eBay execs who deny they had anything to do with cyberstalking of site's critics
James Baugh, David Harville hit with several new counts
Two senior eBay executives who have refused to join their colleagues and plead guilty to charges of cyberstalking have been hit with a string of fresh charges.
James Baugh, 45, was eBay senior director of safety and security, and David Harville, 48, was its director of global resiliency when they were arrested back in June, along with four other eBay employees accused of stalking and intimidating a married couple who published a newsletter for the ecommerce industry that was critical of eBay.
Both Baugh and Harville were charged with conspiracy to commit cyberstalking and conspiracy to tamper with witnesses. But despite their colleagues admitting waging a campaign against the couple – which included sending disturbing items such as a preserved fetal pig, a bloody pig Halloween mask and a book on surviving the loss of a spouse to their home address – both execs maintain they are innocent.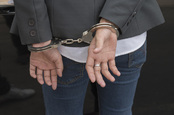 Ex-eBay global intel staffers to admit they cyberstalked online tat bazaar's critics – who got pig heads, funeral wreath, and more in the mail
READ MORE
This week, American prosecutors hit the duo a series of new counts: five new cyberstalking counts; two counts of witness tampering for Baugh and one for Harville; and two new counts of destruction, alteration, and falsification of records in a federal investigation for Baugh, one for Harville.
The pair are accused of carrying out the worst part of the campaign against the couple, including driving to their home in Massachusetts and planning to break into their garage in order to place a GPS tracking device on their car. Prosecutors also allege that they bought tools to break into the garage and carried with them false documents stating that they were investigating the couple for threatening eBay executives in case they were apprehended by the cops while breaking in.
Enter the cops
The couple said they spotted the two eBay staffers watching their house, and called the police, who opened an investigation. The harassment campaign against the couple also included sending public and private messages over social media that attacked their newsletter and threatened to turn up at their house.
The latest indictment alleges Baugh ran meetings to plan the campaign, and led the effort to create a cover story that the couple had threatened eBay's CEO. It's also claimed Baugh posed as the husband of another eBay employee involved in the pressure campaign when they met a police detective in the lobby of Boston's Ritz Carlton hotel as part of the cops' probe into the stalking.
With the police on their tail, Baugh and Harville tried to hide their involvement by lying to an eBay investigator and deleting evidence on their company cell phones, it is alleged.
If found guilty, the pair face a hefty jail sentence: the charges of conspiracy to commit stalking and stalking each carry a sentence of up to five years in prison, three years of supervised release, a fine of up to $250,000, and restitution. The charges of witness tampering and destruction, alteration and fabrication of records in a federal investigation each carry a sentence of up to 20 years in prison, three years of supervised release, a fine of up to $250,000, and restitution. ®