This article is more than 1 year old
Heck yeah, we should have access to our own cars' repair data: Voters in US state approve a landmark right-to-repair ballot measure
It has been Biden its time
Voters in Massachusetts have approved a ballot measure that is widely being interpreted as a major win for the right-to-repair movement.
Question 1, to which 75 per cent of voters answered "yes", asked whether carmakers should provide vehicle diagnostics data to individuals and independent repair shops.
The "Right to Repair Law" or Vehicle Data Access Requirement Initiative, passed yesterday and forces manufacturers to let owners have access to their own cars' repair data.
The new law will take effect in 2022, and encompass all new vehicles (2022 models and onwards) sold from that year.
Passage of the measure was hailed by iFixit as a "milestone for the Right to Repair movement," and a stepping stone to further legislation that would affect consumer electronics like smartphones and tablets.
"This could, in other words, be the start of another nationwide push toward open car data. It could also lead to broader electronics Right to Repair legislation," it said.
Inevitably, the measure faced stiff opposition from the automotive industry, as well as from TechNet, a technology lobbying group that counts Apple, Microsoft, and Google as members.
In total, $42.9m was spent by both campaigns, with the "no" side committing $25m, according to CBS Boston. This makes it the most expensive ballot proposition in Massachusetts history.
The Coalition for Safe and Secure Data — which was formed in order to oppose the bill — argued that its passage would expose the public to unnecessary security and privacy risks.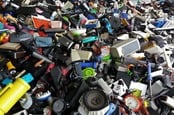 Apple seeks damages from recycling firm that didn't damage its devices: 100,000 iThings 'resold' rather than broken up as expected
READ MORE
One scare-tactic advert broadcast by the group suggested the bill could allow foreign hackers to remotely crash moving vehicles, while another suggested it could allow driver data to be sold to advertisers.
This comes as research analysts suggest passenger cars on sale in 2025 will ship with a terabyte of storage for "real-time data analysis and store-and-forward-to-cloud workloads".
These arguments reflect similar lines made against the wider electronics repair movement made by industry, which has said that opening supply chains and schematics to individuals and independent repair shops presents a risk to consumers from substandard work, as well as a threat to the intellectual property of these companies. These claims have been strenuously denied by members of the Right to Repair movement.
Beyond its vigorous lobbying efforts, the consumer electronics industry has attempted to stymie independent repair efforts through a variety of technological means, including soldering previously-replaceable components in place, and engineering otherwise-working parts to prevent them from being harvested and used in faulty devices. Apple is among the biggest offenders here, stopping engineers from replacing the camera module on the iPhone 12 unless they have access to proprietary cloud software. ®