This article is more than 1 year old
DRAM and NAND demand is up, but it's not enough to buoy SK Hynix profits as prices plummet amid supply glut
Thanks for the memory
An industry-wide supply glut of NAND and DRAM forced prices down over the summer leading to a steep decline in operating profit at SK Hynix, the South Korea memory maker reported today.
For its Q3 ended 30 September, SK's revenues went down by 6 per cent sequentially to ₩8.129 trillion (roughly £5.53bn) while income from operations plunged a staggering 33 per cent to ₩1.3 trillion (£885m).
On a year-on-year basis, revenue was actually up 19 per cent and operating profit was too, by 175 per cent, so the situation is better than last year but seemingly deteriorating again.
Average NAND prices in Q3 fell 10 per cent. This matched a July forecast by TrendForce, which expected an oversupply of NAND products due to the brutal slump in tech spending in many sectors of IT caused by the coronavirus pandemic, particularly in the mobile sphere.
Smartphone shipments were down across the board during Q2, with analysts recording a 25 per cent decline in the US, and a 10 per cent drop in China, resulting in leftover flash inventory being carried into Q3.
NAND grew, with SK Hynix reporting a 9 per cent rise in shipments compared to the previous quarter, attributed to a rise in demand for smartphones, as well as the imminent release of the PlayStation 5 and the Xbox Series X. This was not enough to offset the impact of lower overall prices, however.
DRAM fared slightly better: unit sales went up 4 per cent when compared to the previous quarter but average sales prices came in 7 per cent lower.
In an earnings call, SK Hynix CFO Cha Jin-Seok expressed optimism for NAND, bolstered by increased demand from mobile companies. "The demand coming from mobile companies is continuing," he claimed.
"As they continued to fight over market share, and also the 5G technology continues to spread, we believe that the demand for mobile products, as well as the demand from [the] PC market, will continue into next year."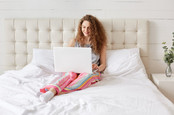 Home working is here to stay, says Lenovo boss, and will grow the total addressable PC market by up to 30%
READ MORE
Hedging somewhat, Cha noted the potential for market conditions to shift, which would have an inevitable impact on demand for certain types of technology and potentially pricing. Much of Europe has or is about to re-enter lockdown following a second spike of the COVID-19 virus. The closure of non-essential electronics retail businesses, paired with economic uncertainty, may have a downward pressure on tech sales, which will ultimately be reflected in the financials of components manufacturers like SK Hynix.
SK Hynix warned it is not anticipating a recovery in average pricing for some time yet.
"In the fourth quarter as the inventory adjustment continues, especially for server side, we believe that demand will remain soft," said SK Hynix CEO Lee Seok-hee. "And as a result, the DRAM price will also remain weak continuing from the third quarter."
Seok-hee added NAND prices will remain low with a recovery not expected until the first half of next year. This recovery, he said, will be driven by a healthier appetite for mobile products as life returns to a pre-COVID normal.
Here's to hoping he's right, for all our sakes. ®