This article is more than 1 year old
Please, tell us more about how just 60 hydrogen-powered 5G drones could make 400,000 UK base stations redundant
Gartner's finest – a former vulture – draws clouds over eyebrow-raising connectivity plan
A company working with a hydrogen-powered 5G drone maker claims to have built an airborne 5G base station antenna "unlike anything ever seen before" – and that just 60 of them could replace Britain's terrestrial 5G networks.
Cambridge Consultants (CC) made its eyebrow-raising announcement a week after The Register reported on its partner Stratospheric Platform's plans to build a hydrogen-powered 5G drone. CC builds the mobile network antenna intended to be hefted aloft by the Stratospheric Platforms (SP) craft.
Key to the SP/CC 5G drone is the antenna, which CC boasted in a statement "will provide coverage over an area of up to 140 kilometres in diameter, equivalent to deploying hundreds of today's terrestrial masts."
It went further, reckoning that "a fleet of around 60 HAPs* could blanket the whole of the UK with connectivity, providing even geographic coverage of peak 5G speeds in excess of 100 Gbps in aggregate."
Richard Leyland, a spokesman for Cambridge Consultants claimed the funky new antenna was capable of blanketing Britain in sufficient 5G coverage to make 400,000 terrestrial base stations redundant, a plan that struck El Reg as a whim too far.
Gartner consultant (and erstwhile vulture) Bill Ray was less than impressed with Cambridge Consultants' claims, telling us by email: "Using 60 aircraft to cover the UK (along with another 120 in rotation) might make sense if coverage is all that we're after, but the 5G revolution needs ultrareliable networking (which means connecting to several base stations at the same time, which demands greater network density) and ultralow latency (which requires edge computing, ideally in the base station). This kind of flying platform would seem to address the communication challenges of the Noughts, not the challenges that 5G provides."
Nonetheless, CC said its new antenna (32 tiles, three square metres, 120kg) generates 480 individual electronically steerable connectivity beams. These beams can be steered to create very specific coverage areas; the firm showed us a mockup image of beams steered to cover the M25 as a theoretical use-case example.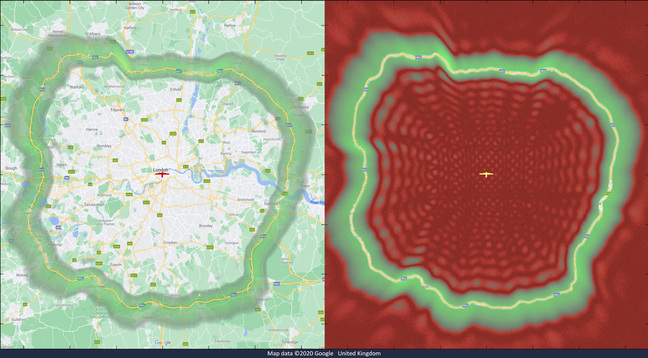 Cambridge Consultants' graphic showing its 5G drone antenna's coverage overlaid on the M25 London Orbital motorway
CC continued: "A unique, wholly digital beamforming capability gives massive flexibility in how services are deployed, allowing in-flight reconfiguration to deliver services beyond the reach of conventional fixed terrestrial networks. This includes following mobile users, including trains and autonomous vehicles, and providing coverage exactly where required, for example ending at national borders."
There is one small problem with this: at some point the base station needs to talk to the wider world. More specifically, that not insignificant part of the wider world based on terra firma. How do these 5G drones and their newfangled antennas handle backhaul?
Gartner's Ray said: "Backhaul will require additional antennas on the aircraft, in mmWave. The ground stations can be quite small (as mmWave only requires small antennas), but they will need a huge capacity. The aircraft operator will need to lease that radio spectrum too."
He concluded: "There are, therefore, very significant technical barriers to this innovation. The antenna is very pretty, but we're a long way from seeing an aircraft, or even a finalised design, and the window of opportunity is already closing."
CC/SP aim to have a real-life drone being test flown by 2024. Only a few more years to go. ®
Bootnote
HAPs = High Altitude Platforms. See also High Altitude Pseudo Satellite, which is the accepted industry name for delicate connectivity drones that fly at 60,000ft.