Qualcomm hints at future data centre and edge compute products
Strong-arms Q4 and the year as China fuels 5G sales
Qualcomm has hinted at future compute-centric products for the network edge and even the data centre.
Speaking on the company's Q4 and full-year 2020 [PDF] earnings call, CEO Steve Mollenkopf told investors Qualcomm is "investing in next-generation infrastructure and edge compute, two areas today that we believe will create significant opportunities in several years."
Mollenkopf also noted that over a billion AI-capable devices use Qualcomm inference technology, leaving the company "well positioned to extend our smartphone AI leadership into growing applications such as data centres, edge appliances and 5G infrastructure."
"Our objective is to provide technology differentiation that will enable us to achieve a leadership position," the CEO said, adding: "As the cloud converges with the mobile Internet, wireless networks are transforming and becoming virtualized. Beyond the cost and operational benefits for service providers, virtualization is enabling new service provider models where infrastructure is intersecting with digital services such as you have seen with Rakuten and Jio."
Qualcomm clearly wants in on all of that, but Mollenkopf didn't say exactly what products would get it there or detail what the company's ambitions might be on the edge or the data centre.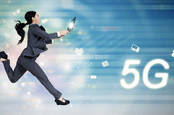 Qualcomm and India's top telco strike 5G pact, hit 1Gbps in trials
READ MORE
At this point readers may wish to recall that in December 2018 the company substantially reduced an effort to build server CPUs and said it would instead pursue "upcoming compute opportunities at the edge of 5G networks and AI inference cloud solutions." In 2019, the company also ended a data centre-centric joint venture in China.
Which leaves Qualcomm having all but quit the data centre while telling the world it likes the look of the edge. Fast-forward two years and it's saying it has products in the works for the former but is still working on the latter.
Whatever it has up its sleeve, it will almost certainly be based on Arm cores, which could represent a huge market for the architecture.
Mollenkopf's remarks came after he revealed Q4 non-GAAP revenue of $6.5bn, $200m above the upper estimate of the company's guidance. Net income came in at $1.67bn. The company's hardware business – known as QCT (Qualcomm CDMA Technologies) – was responsible for $5bn of the revenue, representing 38 per cent year-on-year growth. Licensing revenue grew 30 per cent.
The company also included data detailing QCT revenue sources. Handset components other than radios dominated, with the Internet of Things in second place.

Qualcomm QCT revenue breakdown (click to enlarge)
On the licensing side of the business, the company said it has "all major handset OEMs" under licence and 110 agreements for its 5G technology.
Looking ahead, Mollenkopf saw only blue skies. Demand for 5G kit – in handsets and networks – is an enormous opportunity, as is Wi-Fi 6. The company thinks it can overcome both the US/China trade war and COVID-related supply chain challenges, although it does predict some "tightness of supply".
Overall, execs seemed pretty chuffed that past R&D decisions were paying off so handsomely as reflected in full-year revenue of $21.7bn and net income of $4.8bn, improvements of $2.3bn and $500m respectively.
Guidance for Q1 2021 was between $7.8bn and $8.6bn of revenue, which would again represent strong growth. Investors liked what they heard, and Qualcomm shares have popped by around 7 per cent since its results announcement. ®