This article is more than 1 year old
Microsoft pledges to give Teams users multi-account sign-in then reels it back to one work and one personal
Still, it'll make using the platform from home marginally less excruciating
There was great excitement followed by great disappointment in the collaboration world this week as Microsoft appeared to confirm multiple account support for Teams before slapping on the inevitable gotcha.
Currently number two in the the User Voice parade of feature requests, being able to sign in with multiple accounts is a handy thing for those who have multiple sets of Microsoft 365 credentials that straddle organisations and personal accounts.
Microsoft seemed to answer the prayers of users with an addition to the Microsoft 365 roadmap (first spotted by the OnMSFT gang): additional settings for multiple accounts and organisations would indeed be supported.
On 3 November the company said: "Teams users will be able to add additional accounts, change their profile picture, and switch between accounts and orgs through Settings."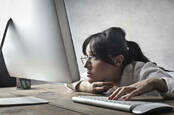 Oh, the humanity! Microsoft congratulates itself for Teams inflicted on 115m daily users
READ MORE
Sadly, however, gears swiftly switched and things became a little more limited the next day.
"We're adding support within Teams desktop to be able to add one personal account, along with one work/school account, change their profile picture, and switch between accounts and orgs through Settings."
An interesting little clarification.
The company later explained that what it actually meant was that the multiple account free-for-all some users dream of will remain just that for the time being: a dream.
Still, we can envisage this approach being useful for remote workers with corporate and personal accounts or perhaps a student attempting to attend class from home. It would be less handy for those with multiple Microsoft 365 accounts (such as consultants).
It also appears that one must switch accounts through settings, rather than seeing everything in one place. A little jarring.
Those who have tired of the wait do have other options. There is the Teams mobile app, which will switch accounts without issue. Alternatively, one can sign out and in on the Desktop or run things in a browser in incognito mode.
Otherwise, users might consider looking at something like Teams arch-rival Slack, which handles a similar situation with considerably more aplomb. ®