This article is more than 1 year old
We've made it: Microsoft deems El Reg relevant enough to have a play with the nerfed version of its upcoming Xbox
Not sure if we should be honoured or offended, but the Series S is a huge step up from its predecessor
Review With Lockdown 2: Electric Boogaloo hitting the UK this week, global coronavirus cases assuring us the only way is up, and Christmas cancelled, there's never been a better time to sit your bum down, swot up on that "hygge" thing, and learn what it means to stay at home. For real this time. But there's another reason to take on the mantle of social distancing champ 2020 this month – the arrival of Sony and Microsoft's new games consoles.
The Register was plied with an Xbox Series S ahead of its 10 November release in spite of all the Microsoft 364-and-under gags, which could also be why we did not receive the full-fat Series X console. Or maybe it's because we don't have 30 jillion subscribers on YouTube and Instagram. Still, we're hip and relevant enough for the hobbled version of Microsoft's next-gen gaming platform, and that's better than nothing.
The console wars may actually be interesting again
While many console gamers are entrenched in either the PlayStation or Xbox camps and unlikely to jump ship no matter what, Microsoft has really upped the ante for the incoming generation after seven years on the back foot. These days there's no such thing as a strictly Xbox-exclusive title – whatever comes out on the console also comes out on Windows PC. Microsoft is playing to its strengths and emphasising integration and interoperability for those lucky enough to have a beefy enough desktop as well as an Xbox.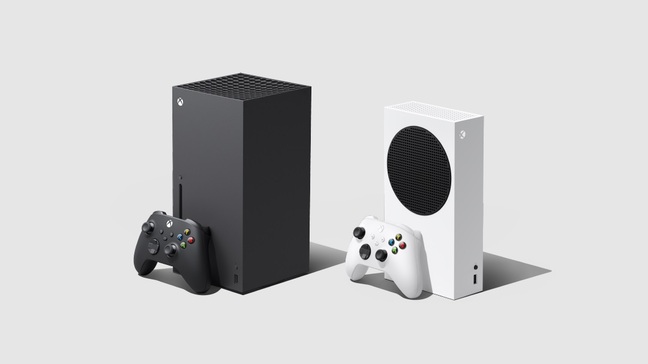 Xbox Series X (left) and Series S
Sony doesn't have a PC operating system; its gaming chops live and die solely in the PlayStation ecosystem. And even its killer app of brilliant exclusives is being eroded – former PS4-only games like Death Stranding and Horizon Zero Dawn were released as PC versions on Steam this year. This sets a precedent and they probably won't be the first and last "exclusives" to make the leap.
Then there's Microsoft's devotion to the Xbox Game Pass, which can be thought of as Netflix for video gaming on both console and PC. For a flat monthly fee, the user gains access to hundreds of titles for download with up to 30 days of offline access. When AAA games are routinely released at the £50-plus point, the benefits are obvious for casual and hardcore hobbyists alike. See a game you want to check out without dropping the megabucks? Sign up, play it for as long as you want, cancel your subscription, and you've saved money. Or move on to the next one.
Sony's equivalent, PlayStation Now, offers flaky streaming or downloads of a larger library spanning generations, but without the day-one launch access to first-party and other big releases that Xbox boasts (though third-party titles come and go). Microsoft's xCloud service is also bundled with the Xbox Game Pass Ultimate tier and allows games to be streamed to Android devices, something Sony does not have. All this could change as the services mature and Sony cranks up investment, but if you add to the mix Microsoft's ongoing developer shopping spree, including home of Fallout and The Elder Scrolls Bethesda, right now the Xbox hasn't looked this exciting since the days of Halo 3 on the 360.
Please bear in mind that your reviewer isn't a rabid fanboi. Our household has long had both the previous-gen Xbox One and PlayStation 4 competing for our attention (lockdown belt-tightening hasn't stretched to a Nintendo Switch) and the PS4 won out thanks to stuff like Persona 5, The Last of Us, and God of War. Even so, followers of The Register Plays Games column will know I do the vast majority of my gaming on PC. We actually had two Xbox Ones lining the floor of a wardrobe until we decided to make the cross-play capabilities on Microsoft's Sea of Thieves part of our nightly rituals. So with that disclaimer of sorts out of the way, let's crack on.
You say X, I say S – what's the diff?
As mentioned, Microsoft's latest comes in two flavours – the chunky Series X and the svelte but less powerful Series S. The Series X includes a 4K UHD Blu-Ray optical drive while the S is an all-digital affair with games downloaded from the Microsoft Store or Game Pass. The primary difference between the two is their ability to handle higher resolutions. The X aims for 60fps at 4K, with 8K HDR, and the S likewise at 1440p, though it'll do native output at 4K if the developer chooses to render at that rez. Both have support for up to 120fps, both will run the same games. There's a more detailed spec comparison below, but suffice to say the hardware is similar – the Series X just has more of everything. Sony has taken a similar path with its PlayStation 5/Pro models, which come out on 19 November in the UK.
|   | Xbox Series X | Xbox Series S |
| --- | --- | --- |
| CPU | 8x cores @ 3.8GHz (3.6GHz w/SMT) custom Zen 2 CPU | 8x cores @ 3.6GHz (3.4GHz w/SMT) custom Zen 2 CPU |
| GPU | 12 TFLOPS, 52 CUs @ 1.825GHz custom RDNA 2 GPU | 4 TFLOPS, 20 CUs @1.565GHz custom RDNA 2 GPU |
| SoC die size | 360.45mm2 | 197.05mm2 |
| Process | 7nm enhanced | " |
| Memory | 16GB GDDR6 w/320 bit-wide bus | 10GB GDDR6 w/128 bit-wide bus |
| Memory bandwidth | 10GB @ 560GB/s, 6GB @ 336GB/s | 8GB @ 224GB/s, 2GB @ 56GB/s |
| Internal storage | 1TB custom NVMe SSD | 512GB custom NVMe SSD |
| I/O throughput | 2.4GB/s (raw), 4.8GB/s (compressed, with custom hardware decompression block) | " |
On "unboxing" – yes, opening a box is apparently of great interest to ages five and up, according to Microsoft's embargoes – we were greeted by a dinky and sparkling-white rectangle interrupted only by a black circular grill on top to help airflow. Aside from the lower price (£250 vs £450), the Series S's size is attractive, measuring 6.5 x 15.1 x 27.5cm and weighing in at 4.25lbs, compared to the hulking X's 15.1 x 15.1 x 30.1cm and 9.8lbs.
Since our unit's shelves are already fully occupied by a satellite box and PS4, we found that the Series S could slip unobtrusively behind our 55-inch telly, safely out of reach from grubby child paws. It's going to be more difficult finding a place for the Series X when larger TVs take up almost all the space on the stand, and it would not have fit within our unit. In any case, we rushed to compare the Series S to a vanilla Xbox One.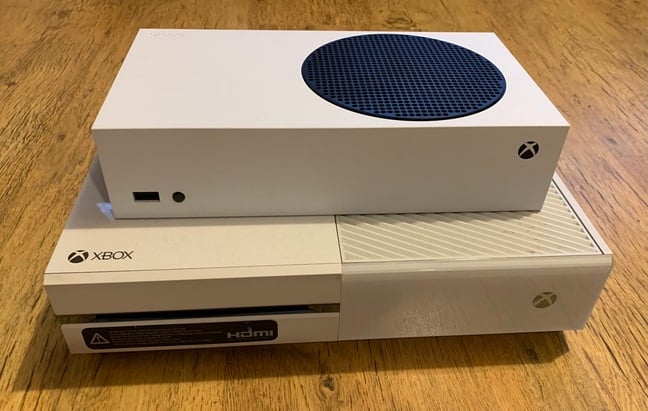 The Xbox Series S on an Xbox One
The Series S ships with little more than a controller, an HDMI 2.1 cable, and a power lead, which has finally shed the colossal power supply brick seen in the Xbox One and 360. As with the Xbox One, the controller retains much of the basic design from the 360 days, with the addition of a pleasant grip texture on the underside and triggers, as well as a dedicated button for taking screenshots or recording clips. Your old Xbox One controllers and headsets will continue to be compatible with the Series X/S, which saves them going to landfill or gathering dust in the attic.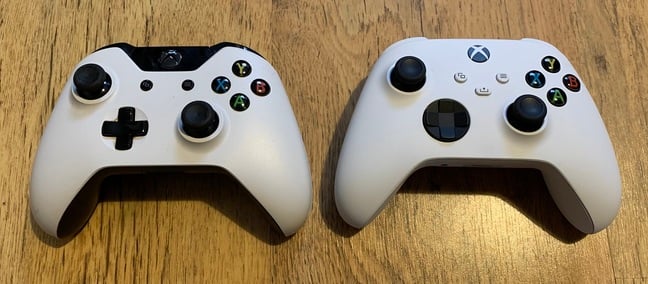 Xbox One controller (left) vs Xbox Series S controller
We set the Series S up via the Xbox mobile app, which lets you choose settings and log into your user profile while the console does the update gubbins. At first glance, the dashboard software seems much the same as it was on Xbox One. As it approached the end of its life cycle, the previous platform had a facelift to unify Xbox across PC and console, and also to bring it in line with the Series X/S aesthetic. Under the hood, however, it now consumes less resources and animations are smoother. This does not mean the Xbox dashboard is designed any better – it's still a bit busy and not always clear where to find something.
'Smart Delivery' and 'Xbox Velocity Architecture'
Anyway, on to the reason we're all here. As generational boundaries blur and consoles become more like PCs, wouldn't it be great if you didn't have to buy the same game again to play it on a new system? Microsoft has addressed this by optimising at launch a heap of new and older games, which will receive updates via what it calls "Smart Delivery". One of these titles is Sea of Thieves, meaning we had a decent baseline for comparison.
The immediate takeaway is that the Xbox One has been running games it couldn't actually handle, and it's a wonder that people were able to endure this. Sea of Thieves is now sharp, bright, and buttery on console rather than a juddering, murky frustration with frames and loading times comparable to an SSD-equipped PC. There is no longer any reason for games consoles not to have solid-state storage, such is the massive improvement in loading speeds.
The time it took to jump into the same game on Xbox and PC (mine's fitted with a Samsung 860 PRO 2TB SSD) was more or less identical, thanks to what Microsoft calls the Xbox Velocity Architecture, which will be of great comfort to gamers who have been pulling their hair out waiting what often amounted to minutes. You can count these load times in seconds. Since the game is cross-play, Xbox players will find themselves more able to compete against PC-based opponents. I also found myself glowering over my shoulder in envy at the higher resolution and richer colours compared to my PC's 1080p monitor, even though the desktop can deliver more frames.
This alone should convince any Xbox One owner to snap up either the Series X or S without even discussing games deemed to be "next-gen". Seriously, the quality-of-life improvements make the incoming platform unrecognisable, and all your old games will work faster if not be vastly improved by Smart Delivery – except Kinect titles, that's been ditched. It's enough to make one pity the console dwellers who have never experienced gaming with an SSD.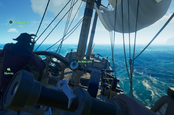 Lockdown team building: Actualise the potentiality of your workforce... through the power of video games
READ MORE
The trade-off is that the Series S has only 512GB of internal storage, meaning we were able to fit 12, maybe 13 games of varying sizes, genres, and styles before we ran out of space. Seeing as most people stick to a few games at a time, 512GB is ample, but the Series X doubles things to 1TB. If either of these capacities present a problem, it can be upgraded with a 1TB Seagate Storage Expansion Card, which slots into the back via a dedicated port. Otherwise, it's a simple case of uninstalling what you don't need to fit that new game. That said, the custom SSD delivers more than 40x the I/O bandwidth of an Xbox One, which is not to be sniffed at.
Among the crop of "optimized for Series X/S" launch titles we tested were Gears Tactics, an XCOM-like spinoff of the Gears of War series; The Touryst, a cutesy voxel puzzler originally released on the Nintendo Switch; racer Forza Horizon 4; platformer Ori and the Will of the Wisps; and brawler-cum-turn-based RPG Yakuza: Like a Dragon, which came out for the PS4 in Japan early this year. Each was crisp and fluid on our Samsung 4K TV, but what really struck us was the silence. The Xbox One was always conspicuous by the revving sound at boot and the wind-tunnel effect of the fans, which you could often hear over the telly, but you wouldn't even know the Series S was running.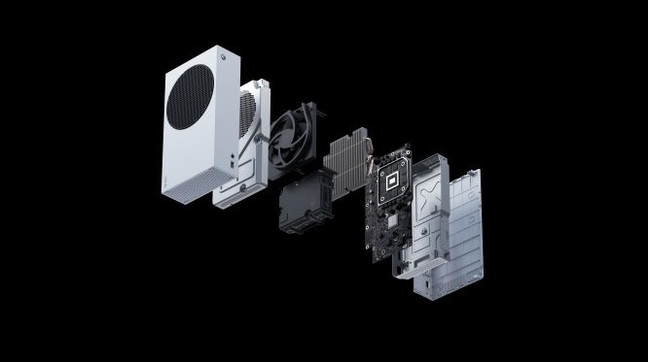 Xbox Series S exploded view
AMD inside
What other tricks does the X/S have up its sleeve? Both models are powered by custom processors built on AMD's Zen 2 and RDNA 2 architectures, with new SoCs designed "from the ground up for speed and performance". There isn't an Intel or Nvidia component in sight. A neat feature that caught me by surprise was "Quick Resume" – the Xbox Velocity Architecture again – which picks up games from exactly where you left off. No navigating a menu to load a save, even after turning the console off. Games would eventually start up in the typical way – title screens and brief loading – though it wasn't immediately clear what reset this. However, there was also word of a bug around Quick Resume that is being hammered out ahead of launch, so it could have been that.
The X harbours some hardware-accelerated DirectX Raytracing chops that the S does not, though my experience with Nvidia's tech on PC tells me it's cool but hardly a must-have. Perhaps Microsoft's take on the rendering technique is improved, and AMD has thrown its hat in the ring with its Big Navi GPUs too, claiming better performance than Nvidia's RTX lines. We'll see how the Xbox Series X copes.
You may have noticed that the launch titles feature few games that are genuinely new, and this is where Xbox may stumble. There's some crossover with the PS5 list, but Sony has a gentle advantage pushing its Spider-Man and Demon's Souls exclusives. Unfortunately, Ubisoft's double whammy of Assassin's Creed: Valhalla and Watch Dogs: Legion will only be available to play on the Series S at launch. We'll rinse both and cover at least one for the November edition of The Register Plays Games, and hopefully glean more insights about how the S handles actual brand-new games in the process.
So there you have it. Microsoft has spiced up the console wars, and it'll be interesting to see how this generation unfolds. To sum up, Series S good, Series X better… presumably, though if you have stacks of Xbox One game discs cluttering your shelves you might need the latter. Or you could transcend those earthly bonds to live a solely digital life on the S. We'd humbly petition Redmond to chuck us an X so we can really drill down into the differences. And if Sony's feeling hard done by, well, we are but an email away. Hint, hint. ®