This article is more than 1 year old
Straighten up the tie pin, dear! Razer slaps on a suit with its totally-not-gaming laptops
Meet the Razer Book 13
Razer's newest laptop line, the Razer Book 13, ditches the FPS chic and beefy discrete GPUs in favour of something more befitting a business environment.
With these ultrabooks, Razer claims it's targeting "go-getters, side-hustlers, and spirited entrepreneurs of today's mobile world," which is a roundabout way of saying "people who use computers for work."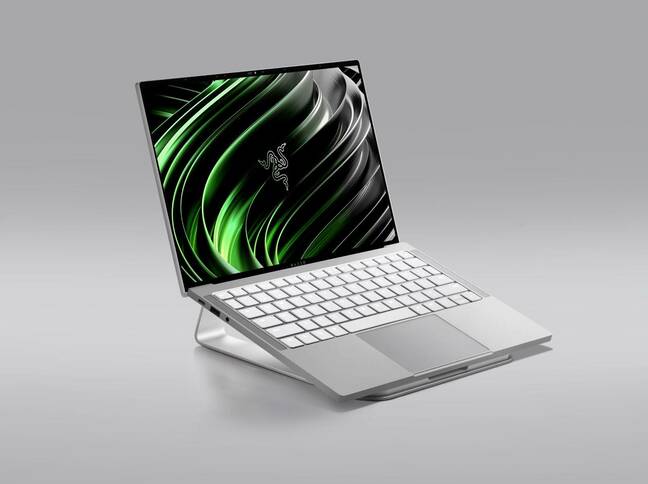 As the name suggests, the laptop touts a 13.4-inch display, with three different configurations available to choose from. The base model lacks touch input, and has a FHD+ (1,920x1,200) resolution. Pay a bit extra, and you can add a Gorilla Glass 6-clad touchscreen. Finally, the top-tier model packs all the stuff found in the previous display, but adds a UHD+ (3,840x2,400) panel.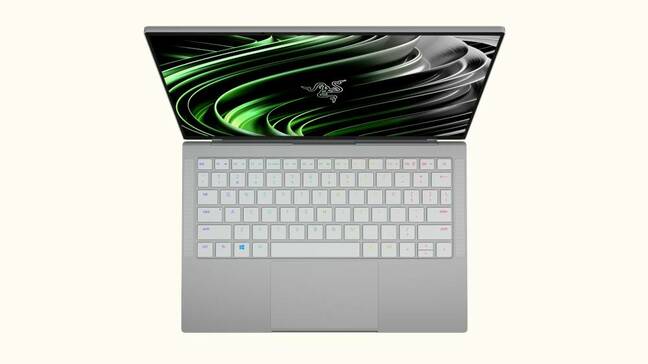 The keys are individually lit
Razer opted for Intel's 11th-gen Core silicon: The base model packs a quad-core i5-1134G7 chip, paired with 8GB LPDDR4x RAM and 256GB M.2 SSD, and Intel's Iris Xe graphics. While this isn't sufficient for running the latest AAA titles with the settings cranked to 11, it will undoubtedly prove capable enough for most day-to-day tasks.
Both touchscreen variants use a beefier i7-1165G7 processor (again, with the Iris integrated graphics), with 16GB RAM and either 256GB or 512GB storage.
Razer has used standard M.2 drives in the machines, which opens the door to upgrades and replacements further down the line. Sadly, that's not the case with the RAM, which came soldered to the motherboard.
That's a shame, because 8GB isn't really that much, particularly when you consider the Razer Book 13 is intended for the professional market. If you plan on running multiple virtual machines (or something as audacious as Google Chrome and Slack at the same time), you're going to need as much memory as you can get your grubby hands on.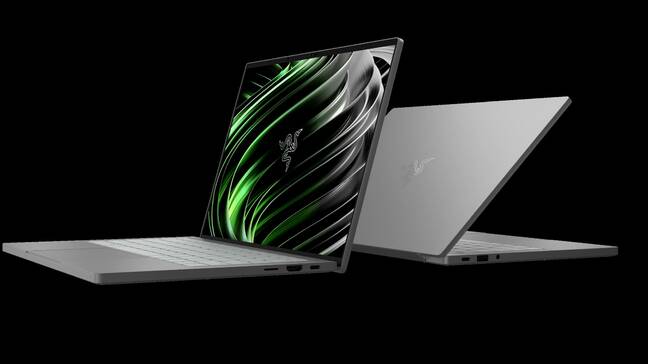 Many ports in a storm
There's a decent collection of ports. All models landed with two Thunderbolt 4 ports. There is also a smattering of legacy connectivity, including a single USB-A port, a MicroSD slot, and dedicated HDMI output. Buried in the display is a 720p webcam, and the laptop ships with a four-microphone array for noise reduction.
Razer uses the same 55Wh, 4,602mAh battery across the lineup. This, the firm claimed, delivers up to 14 hours of battery life across the FHD+ models, and up to 11hrs on the UHD+ model. In our experience, manufacturer battery estimates tend to sit on the optimistic side of things, so we're curious how this holds up in real-life testing.
The entry-level Razer Book 13 starts at $1,199 or €1,299 in Europe. The i7 configurations start at $1,599.99, or €1,699.99. These compare favourably with the current 13-inch MacBook Pro lineup, which are languishing on Intel's 8th-generation Core silicon, as well as the newest Dell XPS flavours. But whether that's enough to convince professionals to leave their comfort zone and take a punt on a vendor known for gaming is anyone's guess. ®