Elon Musk's ancient April Fools' gag about 'Tesla Tequila' made real in lightning-shaped bottle
At $250 for 750ml, the joke's on buyers who bought the whole batch in hours
On April 1st, 2018, Elon Musk took to Twitter to reveal that his electric car company Tesla had gone broke.
"Despite intense efforts to raise money, including a last-ditch mass sale of Easter Eggs, we are sad to report that Tesla has gone completely and totally bankrupt. So bankrupt, you can't believe it," said the mock press release.
And them came the tweets below depicting Musk in the gutter after sorrowfully slugging back too much "Teslaquilla".
Elon was found passed out against a Tesla Model 3, surrounded by "Teslaquilla" bottles, the tracks of dried tears still visible on his cheeks.

This is not a forward-looking statement, because, obviously, what's the point?

Happy New Month! pic.twitter.com/YcouvFz6Y1

— Elon Musk (@elonmusk) April 1, 2018
Tesla trades to this day, but the joke took on a life of its own and Musk eventually vowed to make actual Teslaquilla, which he revealed in October 2018.
Visual approximation pic.twitter.com/sMn3Pv476Y

— Elon Musk (@elonmusk) October 12, 2018
News of the spirit dried up for the next couple of years, but Tesla-watchers noticed that on Thursday it suddenly appeared as an accessory on the Tesla web store in a lightning-bolt-shaped bottle.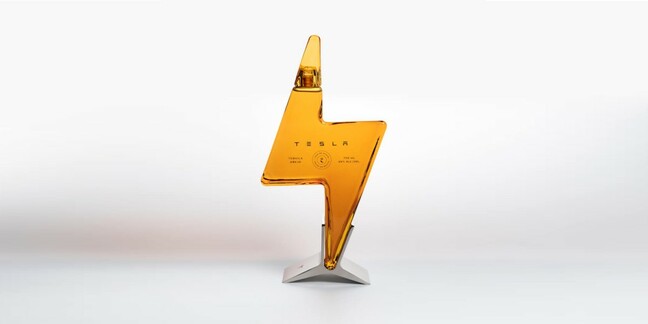 Tesla Tequila. Click to enlarge
The Tequila sold out within hours, even though it costs $250 a bottle.
That price seems to be quite a mark-up as Tesla's site says its spirits are "produced by Nosotros Tequila", an outfit whose website lists a $45 bottle as its most pricey product. For that price you get booze prepped in "French oak barrels for 11 months giving it a smooth, vanilla aroma finished by a balanced honey-cinnamon twist."
Tesla's brew also rested in French oak but offers "a dry fruit and light vanilla nose with a balanced cinnamon pepper finish", so maybe it is a special batch worth more than Nosotros' regular fare.
Whatever the bottle contains, The Register urges readers who managed to buy some not to match it with the flame thrower that Musk produced for his Boring company. ®
Bootnote: The Register has no comment on the status of our own 2016 April 1 story and its promise to publish a colouring-in book for sysadmins.