This article is more than 1 year old
UK's 'minimum viable product' for Brexit transit software will not be ready until December, leaving no time for testing
Fills you with confidence, doesn't it?
The United Kingdom is set to base its post-Brexit management of goods crossing the EU border on software that is still yet to be introduced, leaving little or no time for stakeholder testing.
According to spending watchdog the National Audit Office (NAO), the Goods Vehicle Movement Service (GVMS), which is set to link information on cross-border customs declarations of goods with the vehicle that is transporting, remains under development by Her Majesty's Revenue and Customs.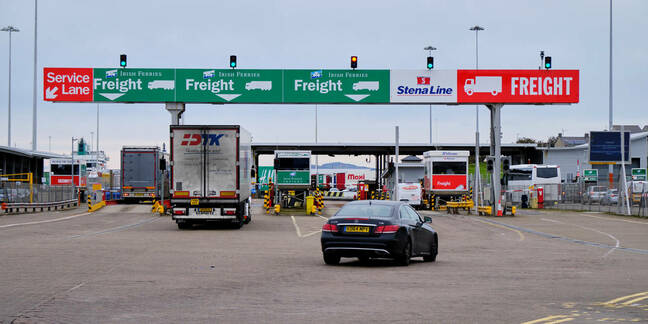 A Danish lorry enters Holyhead ferry port in Wales
The GVMS is meant to create a single movement number that can be presented at a port and ensure the smooth flow of road transport both importing and exporting goods.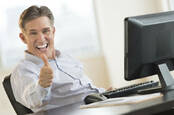 With less than two months left, let's check in on Brexit: All IT systems are up and running and ready to go, says no one
READ MORE
"HMRC assessed in early September that the overall readiness of GVMS was high risk, due to a lack of time for adequate integration and testing with hauliers and carriers. In response, HMRC has prioritised activity and is focusing only on the elements essential to support transit movements and the implementation of the Northern Ireland Protocol," the NAO said in a report published today.
Not very reassuringly, the report held that: "A minimum viable product will be released in December 2020 and this will be followed by a second release by June 2021 that will provide more functionality and enable the delivery of GB import and export controls."
It added: "While the delivery of new systems has not been affected, timetables for user end-to-end testing of these systems have been delayed."
As of 21 October, the Border and Protocol Delivery Group, within minister Michael Gove's remit in the Cabinet Office, has rated GVMS as an amber risk in regard to the transit of goods, but rated the readiness of the operator and port controls necessary to implement GVMS as red.
HMRC estimates that there will be around 6.3 million movements of goods under transit arrangements in the year following the end of the transition period.
In addition to general UK/EU trade, the GVMS is set to be used for specific arrangements in Northern Ireland – dubbed the Digital Office of Transit Function – and for trade in Northern Ireland, made necessary because of promises made by politicos in the UK Withdrawal Agreement, where minimising physical border controls is an explicit objective. Many consider a no-border arrangement to be in the spirit of the Good Friday Agreement between NI and the Republic of Ireland, although the agreement itself only refers to "security normalisation" across the border*.
"HMRC told us that, following a re-planning exercise which prioritised elements of the programme, it was confident that it could deliver the systems required in advance of the end of the transition period. However, it acknowledges that bringing all the elements together is still very high risk, and there is little time for software providers to make the necessary changes or to resolve any issues which may emerge during testing," the NAO said.
Speaking to The Guardian, Meg Hillier, chair of Parliament's Public Accounts Committee, said: "It's incredibly worrying that, with two months to go, critical computer systems haven't been properly tested. The government can only hope that everything comes together on the day but this is not certain."
It is not just the GVMS that HMRC has been tasked with getting right. The "Check an HGV is Ready to Cross the Border" system, formerly known as Smart Freight, is also set to be ready by December 2020, with an "amber" risk on that deadline. It is designed to ensure HGVs carrying exports from the UK have the necessary paperwork before they get to port.
"[The Business Process Design Group] plan to test the software in mid-October, prior to launching the service in December, meaning there is limited time to test and rectify any defects found in the software," the NAO said.
Industry groups have complained that this also gives them little time to design, introduce, and test new business processes made necessary by the system.
A government spokesperson told The Reg: "We are making significant preparations to prepare for the guaranteed changes at the end of the transition period – including investing £705m to ensure the right border infrastructure, staffing and technology is in place, providing £84m in grants to boost the customs intermediaries sector, and implementing border controls in stages so traders have sufficient time to prepare."
Ah, that's ok then. Phew. ®
* A high court in Belfast said late last year the application of a hard border during a potential no-deal Brexit was "a matter of politics and that was not an area in which courts should intervene".