This article is more than 1 year old
Windows 10 quite literally projects its deepest, darkest fears on to New Zealand
It may have escaped the worse of coronavirus, but no one is immune to bork
Bork!Bork!Bork! New Zealand may appear to be practically perfect in every way (at least when viewed through the lens of the UK's Lockdown Number Two) but the city of Christchurch is not immune to bork.
Spotted by a Register reader on a stroll though the city's Evolution Square, the video projection animation of the Ōtautahi mural has garnered the odd admiring glance or two.
However, the edition of Windows responsible for running the show is demanding attention, like a petulant child, before it deigns to sling video onto the SALT Square mural.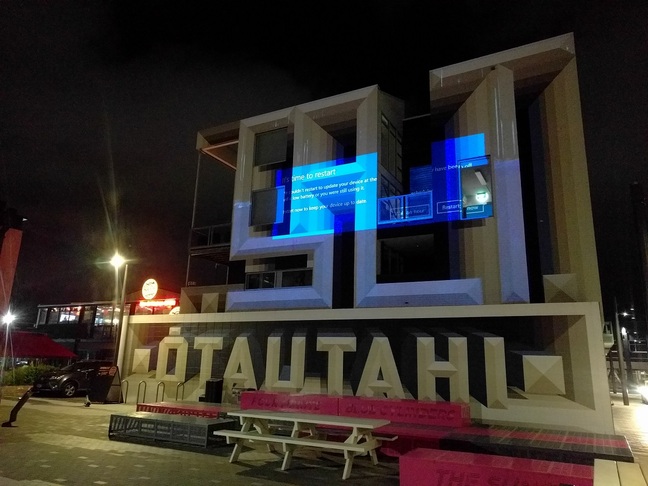 There can be few of us who have not felt the clammy hand of a Windows update on our shoulder, but sticking it on a mural and declaring it "art"? That takes a New Zealander.
Borkage in all its forms has given the art world inspiration over the years. One can collect artwork inspired by the Blue Screen of Death, enjoy a snuggle in a BSOD blanket, or even demonstrate your loyalty to the infamous error screen with a face mask.
As for Christchurch, the borkage appears to have coincided with the first anniversary of the laser projection mapping, the unveiling of which (the artwork, not the bork) was described as "spectacular" by event organiser Tony Vincent.
What Mr Vincent makes of Windows 10 elbowing its way into the light show is anyone's guess. Perhaps it's a cunning subversion of expectations? Nobody expects the update message box, after all.
Still, it is perhaps reassuring to know that while New Zealand seems to have done several things very well over recent months, it still has a bit of a problem with Windows 10's seemingly constant desire for attention.
Just like the rest of us. ®