This article is more than 1 year old
India slashes red tape to make life much easier for outsourcers and outsourcing
Makes work-from-home legal and lowers barriers to entry for smaller players and multinationals' use of Indian workers
India has done away with regulations that govern outsourcers, making it easier for existing players to let their staff keep working from home and for overseas companies to use Indian labour.
Announced late last week, the revised "Guidelines for other service providers (OSPs)" [PDF] mean that outsourcers no longer need to register their premises, replacing a requirement that every office an outsourcer operates must undertake a separate registration process. Also abolished is a per-seat bank guarantee, plus requirement to provide static IP addresses for each staff member along with a detailed network map. Outsourcers will also be able to create VPNs spanning multiple sites and to share a single voice system across sites in India and other countries, even if it is hosted offshore, a change with potential to make it easier for multinational operations to work with their Indian offices.
Outsourcers' staff will be allowed to work from home or just about anywhere else.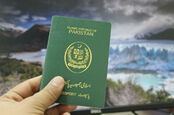 Pakistan pitches 'most relaxed tax structure' in the world to tech investors
READ MORE
The changes are both a reflection of the fact that the COVID-19 pandemic has made previous regulations nonsensical and a desire to make the business process outsourcing sector more competitive.
"In a way, there will not be any government presence," Indian prime minister Narendra Modi said of the new regulations. "Everybody has been trusted. This will greatly reduce the compliance burden and different obligations of the BPO industries. This will make the IT sector globally competitive and will provide more opportunities to the young talent."
India's National Association of Software and Service Companies (NASSCOM), the peak industry body for outsourcers, said: "It is extremely heartening to see the government's commitment towards Ease of Doing Business, and it's focus towards IT-BPM industry's sustainable future. We are grateful to the IT Minister for this landmark decision; acknowledging the industry's needs in this regard."
India regards its IT services industry as a national treasure and it's not hard to see why with the likes of Infosys and HCL posting strong growth amidst the COVID-19 pandemic. But the industry faces challenges: assumed US-president-elect Joe Biden's platform promises a 10 percent surtax on American companies that offshore services and has made that stance a key part of his pandemic recovery and overall economic policies. Pakistan, meanwhile, aims to grow an outsourcing industry based on IT freelancers serving offshore clients while also trying to create a pleasing investment environment for larger IT concerns. ®