This article is more than 1 year old
Magic! If you have an entry-level iPad, the Combo Touch could make it your workhorse
If only cheaper-than-Apple Logitech kit could turn bog-standard slab into a Pro
Review While Apple saw fit to bestow its wallet-crushingly pricey Magic Keyboard on the iPad Pro and Air, no such love was given to the entry-level 10.2-inch iPad, which is a favourite of schools and hard-pressed parents alike. Filling the gap is Logitech's newest Combo Touch keyboard case, which, for the first time, adds a trackpad to the mix.
And while it lacks the sophistication of the Magic Keyboard (and, in fairness, the steep price tag), it nonetheless elevates Apple's cheapest tablet into something more than a humble Netflix machine.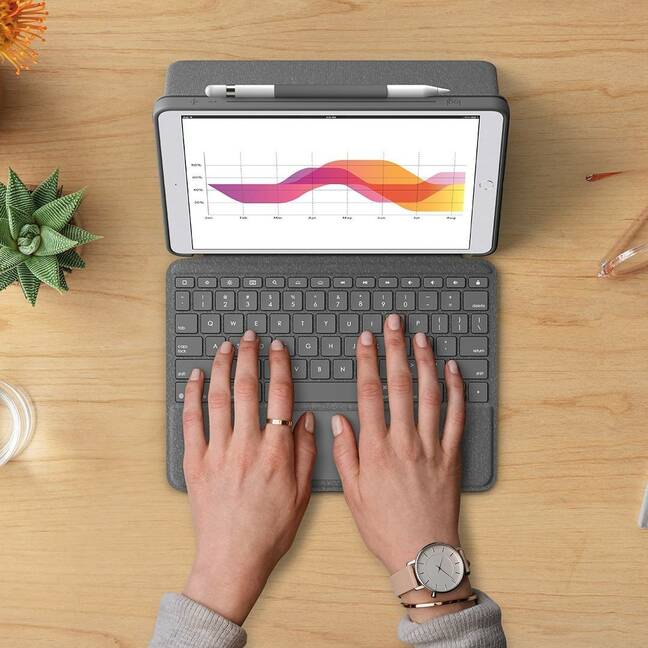 Click to enlarge
First, the keyboard. Logitech was constrained by the diminutive form factor of the iPad, but the typing experience threw me back to the dismal days of the Netbook era, thanks to its awkwardly small keys. Using this requires you to relearn muscle memory, particularly if your fingers (like mine) more closely resemble Cumberland sausages, and your first few hours of typing don't feel nearly as fluid or accurate.
Still, it's not all bad. With enough practice, you can build up a steady typing rhythm. And although the keys are small, they aren't cramped, with plenty of space between each one. Logitech also wins points for giving each individual key a decent amount of travel, as well as the inclusion of backlighting, which is a must-have for late-night work.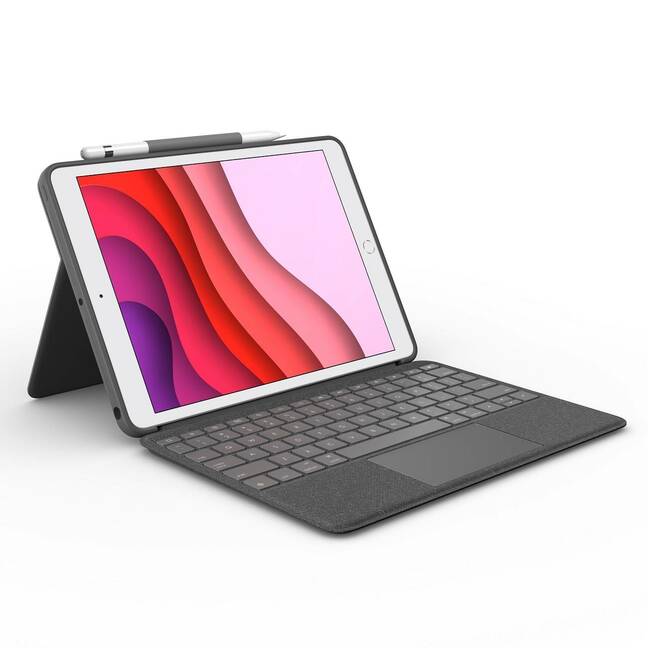 Then there's the trackpad. Given Apple only really committed to adding mouse support earlier this year, this is an excellent effort, thanks to its large touch surface, support for gestures, and ability to disregard accidental presses.
The Combo Touch holds the iPad up via a kickstand, rather than the approach taken by the Magic Keyboard, which uses a floating hinge mechanism. It's not nearly as graceful, and I can't imagine using it comfortably in situations where space comes at a premium, like when flying in middle-seat, economy-class purgatory. This design choice also makes it hard to use the the iPad as a laptop, which is arguably the biggest selling point of the Apple Magic Keyboard.
Other parts of the design hold up well. The keyboard is clad in a stylish, soft fabric which looks amazing, but is no doubt tricky to clean should you splash it with coffee. There's also a dedicated holder for an Apple Pencil. To boot, you don't have to faff around with BlueTooth; the Combo Touch uses the side-mounted Smart Connector pins on the iPad, which makes pairing a doddle. And you can easily detach the keyboard during the times you want to use it as a tablet.
Logitech's Combo Touch is a cheaper alternative to the Magic Keyboard. With a sticker price of £120, it's almost one-third what I paid for my Magic Keyboard. It's also £40 cheaper than Apple's own Smart Keyboard, which doesn't even have a trackpad.
If you don't mind working from a flat surface, it's more than good enough for day-to-day productivity. The keys, although small and slightly awkward, are otherwise well designed. Practice helps you overcome this keyboard's shortcomings. And we're big fans of the trackpad design, too.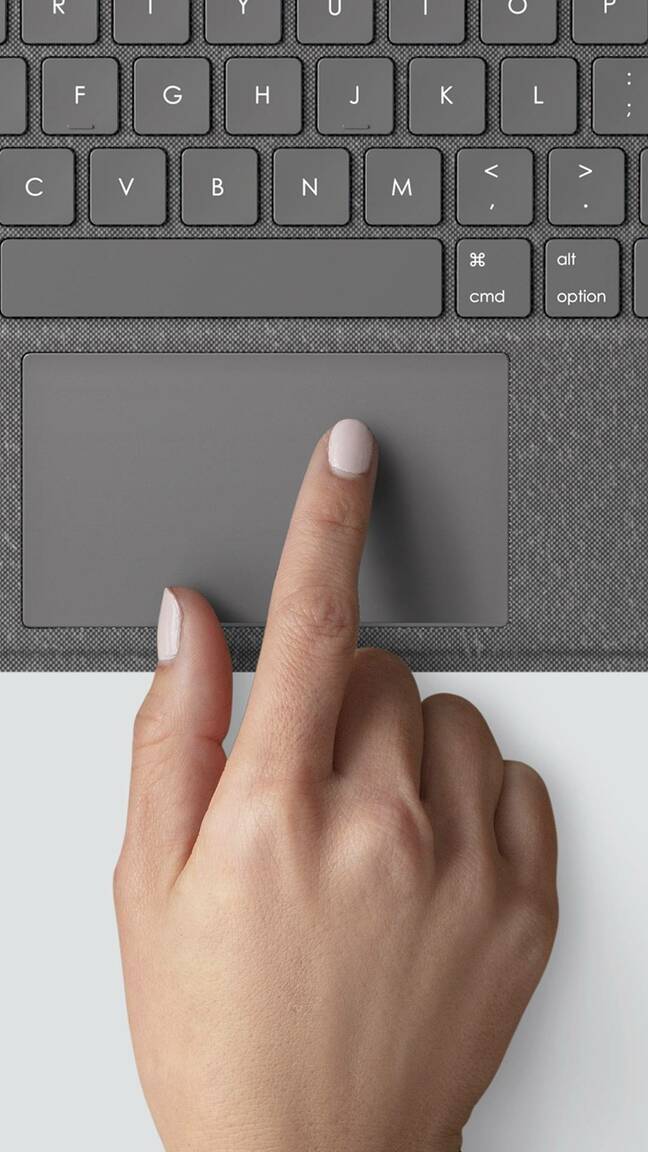 The biggest thorn in the side of the Combo Touch is that the 10.2-inch iPad simply isn't as good at being a work machine as Apple's more expensive models. Collectively, both bits of kit cost £449, which is the same as a second-hand MacBook Air, or a mid-range Windows laptop.
Those looking to move their work life to the iPad would be best directed to one of Apple's more premium models – like the iPad Air 4. But if you already have a 10.2-inch iPad you want to make better use of, the Logitech Combo Touch is a decent option. ®