This article is more than 1 year old
Uber is now a food delivery company with a substantial sideline in taxis
Delivery is even profitable in some places, whole company be kind-of in the black by 2021
Uber last week revealed that it currently derives most of its revenue from delivery services.
The company infamously rose to prominence as a scofflaw taxi-killer and later added delivery services and freight as substantial sidelines that in Q3 2019 delivered $863m compared to the $2.9bn won by ride-sharing services.
One year and one pandemic later, delivery and freight delivered a combined $1.74bn of revenue compared to ride-sharing's $1.37bn.
Delivery also topped ride-sharing when measured by gross revenue – before Uber gets its cut of the transaction.
"We've taken steps to prepare our mobility business for any recovery scenario, and to seize the vastly expanded opportunity ahead for delivery business," CEO Dara Khosrowshahi told investors.
We continue to add eaters at an elevated level
He's not being hyperbolic with that "vastly expanded" description, as delivery gross bookings grew at an annual 135 percent. "This growth is coming, not only for an influx of new users, but also from higher engagement from existing users, with [Delivery Monthly Active Platform Consumer] MAPC growth over 70 percent and trip growth over 110 percent."
Khosrowshahi added that Uber continues "to add eaters at an elevated level" and that the delivery service is close to being in the black.
"In Q3, we had over 10 delivery countries adjusted EBITDA breakeven or better. While we recognize we have - we still have enormous opportunity for growth and investment in the segment, we're confident that we can lean in and turn delivery EBITDA profitable sometime next year."
The company is therefore continuing an update of its app "whereby the Uber Eats delivery experience is integrated next to on-demand trips, generating incremental user and revenue growth for Eats without cannibalization of Rides."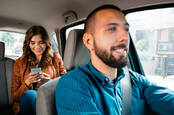 California backs Proposition 22: Great news for Uber, Lyft as their drivers can work as indie contractors
READ MORE
Rides, which Uber describes as its "mobility" business, improved 94 percent quarter-over-quarter but was down 50 percent year-over-year.
But Khosrowshahi saw reasons to be optimistic because the company has observed that as cities come out of lockdown the rate of Uber rides grows more quickly than use of mass transit or conventional cabs.
The CEO pointed out that in New York City the company is seeing more customers on weekdays during non-peak hours, suggesting a change in behaviour.
One thing that hasn't changed is Uber making losses, about $1.1bn in this quarter. But CFO Nelson Chai offered the caveat-laden comment that "we remain confident in our ability to achieve quarterly Adjusted EBITDA profitability before the end of 2021." The company has around $6bn of cash jangling around to help it get there. ®