This article is more than 1 year old
Apple now Arm'd to the teeth: MacBook Air and Pro, Mac mini to be powered by custom M1 chips rather than Intel
ARM64 5nm TSMC-made silicon to ship next week, Cupertino claims apps are ready
Apple on Tuesday unveiled three computers based on homegrown Apple Silicon processors, marking the start of a two-year transition that will replace Intel microprocessors with Cupertino-designed chips compatible with the Arm microarchitecture.
"In June, we announced that the Mac is taking another huge leap forward by transitioning to Apple Silicon," said Apple CEO Tim Cook during a internet-streamed presentation. "And we promised that the first Mac with Apple Silicon would arrive by the end of this year. Well, that day is here."
The processor shift demonstrates Apple's growing estrangement from Intel, which has supplied CPU parts for Apple computers since it displaced IBM during the PowerPC transition in 2006. And it represents an inconvenient repudiation for the chip giant at a time when Intel is losing ground to competitors like TSMC and AMD.
"The transition to Apple Silicon is going to have a profound impact on the Mac," said John Ternus, Apple VP of hardware engineering.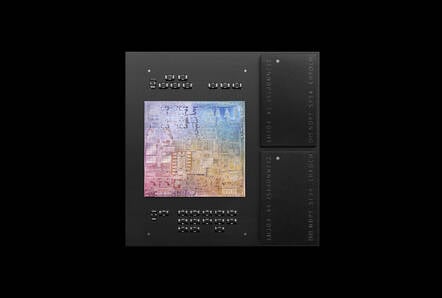 The M1 ... One chip to bring them all, and in the darkness bind them. Source: Apple. Click to enlarge
Apple announced it is now taking orders for three devices based on its M1 Apple Silicon chip: the 13-inch MacBook Air ($999+), the Mac mini ($699+), and the 13-inch MacBook Pro ($1,299+), all of which are scheduled to ship next week. They run macOS version 11 aka Big Sur, which will be available for download on Thursday, and there are small discounts for education markets.
Intel fumbled ten, so Apple goes five
The M1, according to Cupertino, is fabricated by TSMC using its 5nm process technology. Compared to the previous generation of Intel-based Macs, the chip supposedly delivers up to 3.5 faster CPU performance, up to 6x faster GPU performance, and up to 15x faster machine learning processing, while extending battery life 2x longer.
Apple did not publish benchmark data to support its claims, though it insists it used "select industry-standard graphics benchmarks" to find that its Apple Silicon Mac mini is up to 5x faster than the best-selling Windows desktop in its price range.
"Until now a Mac needed multiple chips to deliver all of its features," explained Johny Srouji, SVP of hardware technologies. "It had chips for the processor, I/O, security and memory. Now with M1, these technologies are combined into a single SoC [system-on-chip] delivering a whole new level of integration for more simplicity, efficiency and amazing performance."
M1 also features Apple's unified memory architecture, Srouji said, which merges memory into a single pool so that all the SoC components can access the same data without copying between multiple memory pools over various buses. The result is a dramatic improvement of power efficiency, he said.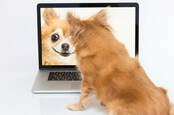 What's that about Apple hardware? Pfft, says Intel as it intros magical self-healing PC
READ MORE
The M1 sports eight CPU cores, four of which are tuned for performance and four of which are tuned for efficiency, a la Arm's big.LITTLE arrangement, an eight-core GPU that can handle roughly 25,000 threads at once and offers 2.6 TFLOPS of throughput presumably at FP32, and a 16-core Neural Engine that delivers 15x faster machine learning than its predecessor, it is claimed.
It's expected to have up to 192KB of instruction cache and 128KB of data cache, per CPU core, which may explain how it's able to reach decent per-core performance. That would be also far beyond the cache sizes in rival x86 and Arm processors. The chip package includes the system RAM, too, as shown above.
The SoC also includes an image signal processor, a secure enclave, a storage controller with AES encryption hardware, media encoding and decoding engines, and an Apple-designed Thunderbolt controller for USB 4 (40Gbps).
Apple's M1-powered devices support macOS apps compiled as Universal Binaries (which bundle native code for both ARM64 and x86_64 chips) or as legacy x86_64-based code via its Rosetta 2 translation technology. What's more, they can run many iOS/iPadOS apps, which have been compiled for previous A-series Apple Silicon processors.
Apple SVP of software engineering Craig Federighi said the company has optimized all of its apps for M1, such as Pages, Numbers, Keynote, GarageBand, iMovie, LogicPro, and Final Cut Pro.
Adobe, he said, will make a universal version of Lightroom available next month and plans to do the same for other apps like Photoshop early next year.
Other important Mac apps will need further tuning before they ship with native Apple Silicon code. Microsoft said it aims to get an experimental ARM64 build of Visual Studio to developers next month and it has a beta version of Office for Mac that supports Apple Silicon waiting in the wings. The Homebrew package manager isn't yet working on Apple Silicon. Nor is Docker.
In June, Apple engineers mentioned a new virtualization layer was being developed to run Linux VMs and Docker on Apple Silicon. No mention was made during Apple's video presentation of how that project is going. VMware filled that void by declaring it is "committed to delivering VMware virtual machines on Apple Silicon," though it declined to say when.
Those demanding high-end Apple systems may wish to wait for next year's 16-inch MacBook Pro revision. None of the M1 models announced today can be bought with more than 16GB of RAM; current Intel-based MacBook Pro models support up to 32GB (13-inch) or 64GB (16-inch). ®