This article is more than 1 year old
Curse of Arecibo strikes again: Now another cable breaks, smashes into America's largest radio telescope
*Hums the GoldenEye theme*
America's largest radio telescope, at the Arecibo Observatory in Puerto Rico, has suffered yet more damage after another cable above the reflector dish snapped and came crashing down last week.
It doesn't appear to be as serious as a similar accident in August, when a three-inch-thick auxiliary cable broke free and tore a 100-ft hole in the 1,000-foot dish below. The Arecibo Observatory remains closed; operations have been suspended.
"This is certainly not what we wanted to see, but the important thing is that no one got hurt," said Francisco Cordova, the director of the observatory, on Sunday.
"We have been thoughtful in our evaluation and prioritized safety in planning for repairs that were supposed to begin Tuesday. Now this. There is much uncertainty until we can stabilize the structure."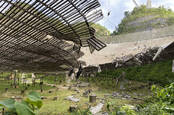 America's largest radio telescope blind after falling cable slashes 100-foot gash in reflector dish
READ MORE
The cable fell on Friday at 1939 local time. Both cables were connected to a tower that supports receivers suspended above the telescope's dish. It's unclear what caused this latest cable break; officials reckon it has something to do with the extra strain on the remaining cables caused by the auxiliary one suddenly broke earlier this year.
An investigation to pinpoint what caused the August failure is still ongoing. Three management and engineering outfits WSP; Thornton Tomasetti; and Wiss, Janney, Elstner Associates have been hired to probe what may have caused the mishaps, and organize a plan to repair the damage.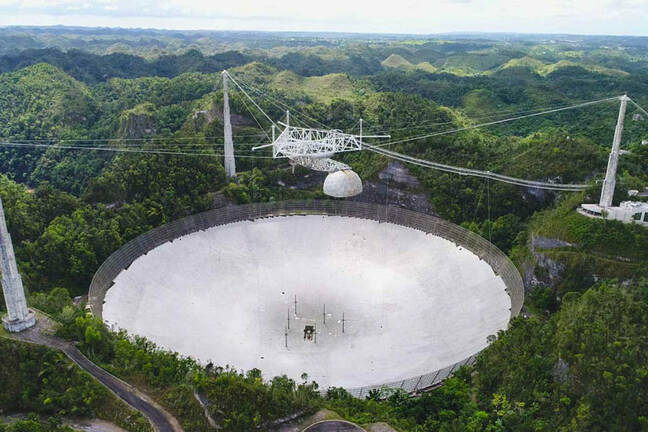 The Arecibo Observatory in Puerto Rico ... For goodness sake, we're still working on the old job! Source: University of Central Florida. Click to enlarge
Engineers will have to wait a couple more days before they can install steel beams to reinforce the towers and support the remaining cables. The University of Central Florida, which operates the telescope with other organizations, has asked America's National Science Foundation for an extra wad of cash to pay for the temporary fix until the investigation is over.
"This is not good, but we remain committed to getting the facility back online," Cordova said. "It's just too important of a tool for the advancement of science. It has our full attention. We are evaluating the situation with our experts and hope to have more to share soon."
The Arecibo Observatory was built in 1963, and has helped astronomers discover distant pulsar stars as well as study objects nearer to us like exoplanets and asteroids. It was the world's largest single-aperture telescope until China's Five-hundred-meter Aperture Spherical Telescope was completed in 2016. ®