Capita is still hopeful of finding a buyer for its education software biz despite financial offers reportedly coming in below the expected range of £500m to £700m in mid-October - which at the time was higher than the entire group's market cap.
In a trading update to the London Stock Exchange this morning, Capita said its Q3 financials - running in parallel to the calendar year - crossed the line at £800m, down from £900m a year earlier.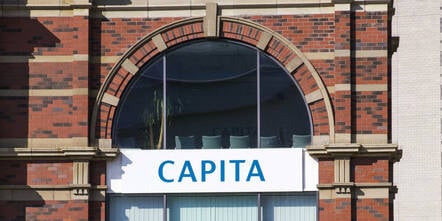 Capita's headquarters in Leeds
"The greater part of Capita's revenues have remained resilient, with the vast majority of our colleagues able to deliver services for our clients," the company said in a statement.
Sales were in line with previous forecasts and remain on track to decline 10 per cent year-on-year in 2020 to £3.297bn, the business said.
The year-on-year drop in turnover was "driven by both the impact of COVID-19, largely in our transactional businesses - such as travel and training - and contract losses announced in 2019."
It added the revenue fall had been "mitigated through the cost actions we have taken over the last 12 months."
A for-sale sign was hung over the Education Software Services (ESS) business in August when Capita released figures for the six months ended 30 June. The company said the pandemic had accelerated some of its "strategic decisions", however, it failed to find a buyer at the right asking price, according to Bloomberg.
Interested bidders were said to have included equity investors Bain Capital and TPG, but when it emerged that both had dropped out of the running on 15 October, Capita's share price sunk 7.45 per cent, reducing its market valuation to £431m.
Today, Capita said it was continuing to "proceed with the disposal of the education software business, and discussions are ongoing."
"We continue to make progress to strengthen the balance sheet with the disposal of non-core assets, including the proposed sales of our education software business," said CEO Jon Lewis, the man brought in to turnaround Capita's fortunes.
Under his remit, Capita has offloaded a variety of businesses deemed as not essential to its future, tried to simplify the structure, and repeatedly cut costs where feasible.
Capita's update today clearly chimed with the City, as the share price went up more than 21 per cent in early morning trading to 30.81 pence, taking the market cap to well over £526m. This remains a world away from the peak £7.95 per share price Capita had in December 2015, before the major problems surfaced and caused the business to post its first ever profit warning.
Analyst Megabuyte said this morning: "[G]iven that ESS is slowly losing market share and is in need of significant investment to turn it around, so it would appear that Capita has revised down its valuation expectations." ®
Similar topics