This article is more than 1 year old
Tim Berners-Lee asks everyone to do new biz a Solid and let him have another crack at fixing the Web's privacy
Launches enterprise server trying to make 'pod' data a thing at scale
Inventor of the world wide web, Tim Berners-Lee, is having another crack at fixing the internet's biggest problems with the launch of a new enterprise server.
The Inrupt Enterprise Solid Server is the first product from a company the inventor started two years ago in response to the problem of personal data online, where tech giants like Facebook and Google build vast databases on user's profiles and sell them to advertisers to make massive profits.
Inrupt has worked on a series of new standards that allow individuals to store their personal information in "pods" whose access they control.
The decentralized approach allows for the free and fast sharing of data but with control in the hands of its owners. The project is called Solid and after two years of work at MIT, the team behind it has released an enterprise service: the goal being to move the whole idea from concept to reality.
In a blog post on Monday, Berners-Lee announced a number of big-name partners that will run pilots, including the BBC, NatWest Bank, the National Health Service (NHS) and Flanders Government. The pilots are small and the intent is clearly to spark greater awareness of the technology and grow adoption.
The enterprise server will allow organizations to build applications using others' data pods that can do useful things like draw comparisons across users, or build greater context around user data, while keeping the user in control of their data.
Will it work?
In theory, the approach is a good one - using web technologies to give people control of their data while also making sure it is easily and simply available to others - but the idea faces a significant uphill struggle. It would require massive and widespread adoption and there would need to be real benefits - beyond just the concept of it being a better privacy approach - for companies to adopt it.
And then of course it would require hundreds of millions of ordinary internet users to go to the trouble of inputting and/or organizing their data - through systems that have yet to be developed because the technology (a kind of peer-to-peer network with added controls) remains untested and cumbersome.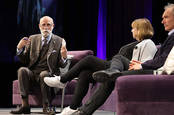 The internet is going to hell and its creators want your help fixing it
READ MORE
For many businesses, it will be a chicken-and-egg conundrum where it won't be worth investing in the Solid system until there is sufficient data and users of the system; and users won't bother providing their data until there are sufficient companies and applications.
On top of that, the vast majority of users would need to choose a third-party to act as a holder of their data "pods" so the information is readily available. That leads immediately to the question of whether it would be hosted for free - in which case the company will seek to cover the cost of doing so by selling it in some way - or whether users would need to pay for it.
Self-hosting could theoretically solve the problem - for example, holding personal data on your cell phone - but that is some way off with Inrupt admitting that "this option still requires some technical background, and it may not be suitable for everyone yet."
That said, it is still early days. With new regulations like GDPR and California's privacy law, a system like Solid would make it significantly easier for companies to gather and use data without having the weight of administering it all and being responsible for constantly updated permissions.
Berners-Lee is hoping that the system will eventually benefit from the network effect and the server is an effort to jumpstart the process. "Starting today, more organizations worldwide can take the first step towards building a trusted web where innovation flourishes, and everyone - businesses, developers, and web users - share the benefits. We hope you'll join us on this exciting journey," he concluded. ®