This article is more than 1 year old
Missing Alan Turing memorabilia to be returned to Blighty from the US, 36 years after it went walkabout
A win for 2020: Polymath's possessions headed back to Sherborne School
Missing Alan Turing memorabilia is to be returned to the UK from the US, after it went missing from his old boarding school.
The items – including photos, school reports, and Turing's OBE medal – disappeared from the famous British Sherborne School where Turing was educated decades ago. They turned up hidden in the Colorado home of Julia Mathison Turing (no relation) in 2018.
Julia Mathison Turing had approached the University of Colorado Boulder, offering the items for display at the American college. Her claim that she was Turing's daughter was swiftly disproved, and a raid on her house by US Homeland Security turned up the items.
A subsequent civil suit in the States to obtain the materials has now been settled out of court [PDF, page 2], and Sherborne School is looking forward to receiving the items. Mail delays in America are holding up the case right now.
Rachel Hassall, an archivist at the school, told The Register this week Sherborne was extremely pleased that a settlement had been reached to return the items "removed in 1984 without permission from the archives given to the School in 1965 by the Turing family in memory of the time Alan Turing spent as a pupil here."
Hassall thanked the University of Colorado Boulder and Homeland Security for their efforts. She also told us that when Alan Turing's Princeton PhD certificate is returned to the school, it has been agreed that a plaque will be displayed near to it stating that it was in Ms Turing's care from 1984-2020.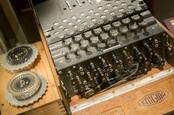 Cambridge student rebuilds Polish Enigma-code-breaking box that paved the way for Turing ... and Victory!
READ MORE
The school was not a party to the settlement agreement, and Hassall expressed regret that the removal of the Turing materials had "denied generations of pupils and researchers the opportunity to consult it."
Once back in the school's archives, the material will be available for inspection in person or via the School Archive's website.
When asked how a repeat of the 1984 incident might be avoided, Hassall told us that "all researchers are now supervised." Hassall herself was appointed by the school in 2010 as its first qualified archivist.
Headmaster Dr Dominic Luckett paid tribute to Turing's code-breaking work at Bletchley park and contribution to computing. "We take very seriously our responsibility to look after those items in our archives which relate to his time at Sherborne School and his subsequent life and work," he promised. ®