This article is more than 1 year old
Cutting the ties: European hosting provider OVHCloud to offer Google Anthos, no Google account needed
Full Euro data sovereignty, promises cloud company
Google's "first partnership of this kind" with an independent hosting provider sees its Anthos Kubernetes platform offered without ties to Google Cloud, according to the third-party cloud company selling the service.
OVHCloud (formerly OVH) is a cloud services slinger based in France but with a global presence, having 30 data centres around the world, with over half of them in Europe and most of the rest in the USA.
In 2017, OVH bought vCloud Air, which was VMware's public cloud platform before it went down the path of integrating with the likes of AWS, Google and Microsoft.
OVHCloud now sells private cloud based on its VMware technology and public cloud based on OpenStack, including managed Kubernetes, as well as the usual array of web hosting, hosted email, virtual servers, dedicated servers, and so forth. OVHCloud Connect is a fast dedicated connection to OVHCloud that enables hybrid on-premises/cloud services. OVHCloud sits within the second tier of cloud providers, after the hyperscale giants.
Slide out of the GooglePlex: The empty three-storey slide in the lobby of Google's building at 1900 Mountain View, California, USA
What are the implications?
The company told us it has inked a "strategic partnership" with Google, the aim being to "co-build a trusted cloud solution in Europe."
The news raises all sorts of questions. Is Google Cloud on its own not a "trusted" service, and if not, what would be more trusted about a deal with a large European provider that already sells Kubernetes on OpenStack or VMware?
Further, what is lacking in Kubernetes on OpenStack, that Anthos can provide? Anthos provides a number of services, all of which run on GKE (Google Kubernetes Engine).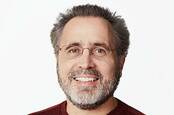 Google's solution for Business Application Platform: More Anthos
READ MORE
Thomas Kurian, CEO of Google Cloud, stated that "listening to our customers, partners and policymakers in Europe, we understand their need for even greater control and autonomy."
But if you want to deploy to Anthos on OVHCloud, will you also need to sign into Google? "Not at all," Sylvain Rouri, OVHCloud Chief Sales Officer, told The Register. "You will use the OVH control panel."
He made a sharp distinction between Anthos installed by an enterprise on-premises, where management is done via Google's cloud, and what will happen when OVH Anthos goes live. "You will have not only the data plane but also the monitoring plane. The full suite will come in our cloud," he said. "It's not the version that you would install. It will be on the European sovereign cloud."
Kurian had already given us clues about what was coming in this post on European data sovereignty where he said "we are empowering a range of local partners." That also suggests that OVHCloud will not be the only provider able to offer Anthos in this new guise.
Details of exactly how this will work are sketchy, but Rouri did say that Anthos on OVHCloud will be a bare-metal installation rather than running on VMware or OpenStack. "With regard to the suite of features that will be made accessible, we will communicate at the product launch."
What will OVHCloud get from Anthos that is not available in its existing managed Kubernetes service? "There will be additional features," said Rouri. "We think we need to offer more services, especially to the corporate market which has different expectations," he said.
Would not OpenStack, which is less tied to a large US corporation, be preferable from a digital sovereignty perspective? Rouri did not answer directly but said that OpenStack will remain an option and that OVHCloud is a "big promoter" of the platform. "I don't think it's one or the other," he said. "It's all of them."
He also said that his company is serious about data sovereignty. "We just don't want to have any third party intervene on someone's data without his or her consent. Any solution that complies with those principles is welcome as part of our ecosystem." He sees the fact that OVHCloud will be hosting Google's Anthos platform as similar to the fact that it also uses software from VMware, Microsoft, Nutanix and others, and that Google will be a software provider not a hosting partner.
What will Google gain? In its presentations during the never-ending Google Cloud Next virtual event this year, senior VP of technical infrastructure Urs Hölzle expressed the hope that Anthos – not Kubernetes - would become standard infrastructure embraced by the industry in the same way as Linux.
Dream on, will be the answer from AWS, Microsoft, Red Hat and others with their own Kubernetes distributions. At the same time, getting more GKE out there via third-party providers makes sense as part of that strategy, even if Google gives up a measure of control in the process.®