This article is more than 1 year old
FCC sucked deeper into partisan politics, Trumpism: Nominated commissioner sparks conflict-of-interest row
Will Section 230 become the new net neutrality?
Analysis The FCC has been sucked further into partisan politics with the nomination of a new commissioner to its panel of five overseers.
At a Senate hearing this week investigating whether Nathan Simington should take over the position to be vacated by commissioner Michael O'Rielly in January, Senator Richard Blumenthal (D-CT) asked him if the nominee would recuse himself from a review by the American regulator of Section 230 of the Communications Decency Act (CDA).
When Simington failed to say he would, Blumenthal made it plain he would hold up his nomination as a result. "I'm deeply troubled by your apparent refusal to commit to recusing yourself. And I will put a hold on your nomination as long as you decline to make that commitment," the senator said.
The issue is not a small one, and it was responsible in two different ways for Simington being in the room in the first place. First, O'Rielly, a Republican, had his re-nomination as an FCC commissioner pulled due to his opposition to an overhaul by the FCC of Section 230, and second, Simington was an author of the US government document that pushed for it.
The decision by the FCC to take a look at the law that provides legal protections for Facebook and other online platforms has been highly controversial, in large part because the FCC would be redoing or creating law; something that almost all experts say should be left to Congress. They argue it is not the FCC's job, nor is it within its powers, to modify the legislation in question, and most – including O'Rielly – believe altering the rules will have serious First Amendment implications.
But the request for the FCC to scrutinize the law came directly from President Trump, and as a result it has become a larger proxy battle against American internet giants. FCC chairman Ajit Pai allied himself closely to Trump – something that got him the job in the first place – and his decision to take on Section 230 rather than dismiss the request is one more sign that the commission has become an extension of the administration rather than an independent government regulator.
Bye Bye Pai
Pai is almost certainly out of a job come January when President-elect Joe Biden will take over and install a Democratic Party nominee as FCC chairman, as happens every time there is a change in government.
But in the meantime, Pai threatens to make a decision on Section 230, which would almost certainly be backed up by Commissioner Brendan Carr (who for years worked as Pai's senior advisor) and, if he gets nominated, Nathan Simington. The two Democratic commissioners have already made it clear they will vote against any FCC rulings over Section 230.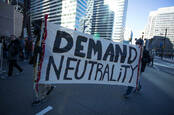 FCC puts final nails into net neutrality coffin. In a week, America will vote on whether to bury or open it up again
READ MORE
At his nomination hearing, Simington tried to downplay the role he had played in drawing up the Department of Commerce's request to the FCC to take a look at Section 230 (Simington is today a DoC official).
He told senators he had only played a "minor role" in drawing up that petition, estimating that he had written between five and seven per cent of its final text as well as edited some sections and checked citations. He admitted he had spoken to White House staff about the issue though said he did not go into detail about the issue.
But it's fair to say that no one believes him. The fact that O'Rielly was dropped after he said in a speech in July that "the First Amendment protects us from limits on speech imposed by the government – not private actors – and we should all reject demands, in the name of the First Amendment, for private actors to curate or publish speech in a certain way" – is a clear sign the President and his team feel very strongly about the issue.
The subsequent nomination of Simington who just happened to be a DoC official who helped write and edit the Section 230 petition was so typically Trumpian in its lack of subtlety that it is pretty much impossible to draw a different conclusion.
When asked if he would recuse himself from making a decision where he has so clearly indicated what his vote would be and even write the petition pushing for it, Simington demurred and said he would consult with the FCC's ethics office. But he refused to say he wouldn't vote on it and said it would be "premature to make such a commitment."
Blumenthal, unsurprisingly, did not agree.
Net neutrali...aaaaargh
But perhaps the bigger problem is that if the FCC moves forward with the Section 230 review and Simington votes on it, the independent regulator's already badly battered policy processes will take another dive.
Democrats have already sent a letter [PDF] to Ajit Pai insisting that he "immediately stop work on all partisan, controversial items under consideration, consistent with applicable law and regulation, and follow the norms set by past transfers of power."
You might think that Pai would be open to this line of thinking since he did the exact same thing four years ago, when he formally requested that his predecessor – Tom Wheeler – stop all work on potentially partisan issues during the transition period. Wheeler stopped the next day. But Pai has shown himself to be every bit as reckless with tradition and reason as the President.
What's worse is that the issue of Section 230 is showing all the signs of becoming so deeply connected to partisan politics that it becomes impossible for rational debate, and instead becomes a battle flag for each party to seize and hoist as power flits between them.
Which is exactly what happened with net neutrality. Which, of course, will yet again be thrown into the mix when the Democrats take majority control of the FCC. Joe Biden hasn't spoken much about net neutrality – internet and tech wasn't highlighted in his "vision" for America – though it's a virtual certainty that whoever take on internet policy in his White House will want to revive the issue all over again.
The irony is that Section 230 is one of the few internet issues that Biden has weighed in on: he has called for it to be scrapped entirely. A position that pretty much no one agrees with. ®