Roku streaming devices will now support Apple's AirPlay2 streaming and HomeKit smart home protocols.
The two proprietary systems will be added in a software update available from today, Roku announced, and will work on the full range of its most recent devices – from its plug-in streaming stick, to its high-end Ultra box, to its soundbar.
HomeKit is Apple's glue between equipment, such as smart door-locks and lights, and software that can control them. In this case, people can control their Roku gear through Apple's Home app and Siri on their iPhone, iPad, Mac, and so on, via the HomeKit protocol.
The move has been a long time coming especially since Roku actively positions itself as a neutral third party in the multi-layered smart-home and internet entertainment war between Apple, Amazon, and Google. It has an open-door policy when it comes to supporting services, something indicated by the fact that Roku's range is now the first set of products that will work with all three of those tech giants' digital assistants – Amazon's Alexa, Google Assistant, and now Siri.
Despite Roku's best efforts, commercial realities are such that it can't always persuade other companies to get on its platform, which is why the addition of HomeKit and AirPlay2 support is interesting. Apple has its own streaming device, AppleTV, and so Roku is, in that sense, a competitor.
Apple is by nature a control-freak, and uses its carefully designed ecosystem to call the shots, telling companies that if they want access to its millions of users they need to fit in with its demands, rather than the other way around. However, following the debacle that was Apple's insistence smart-home equipment manufacturers use an Apple-approved chipset to interface with phones and tablets via HomeKit – something that backfired when virtually everyone decided they simply wouldn't bother – Cupertino has become a little bit more pragmatic.
Rather than insist on physical microcontrollers to provide the security features it desired in HomeKit-compatible devices, Apple said manufacturers could include that functionality in software instead. This came after the Mac maker realized it was quickly losing market share to Google and Amazon, and thus relaxed its requirements a little.
Battlefield
HomeKit is still lagging, however – which is why it only ever gets a brief mention at Apple events – despite outfits like smart thermostat maker Ecobee, doorlock manufacturer August, power-outlet sligner WeMo, and others getting on board and using the protocols. The arrival of HomeKit support on Roku devices is a sign that Apple recognizes that people aren't going to live entirely in Apple-land and that if it wants to succeed in this space, it needs to get over itself.
But the widespread use of HomeKit is a little way in the future, and Apple is still playing catch-up. The big advantage of today's news to Roku users is the inclusion of AirPlay2 support, which means they can stream from their iPhones and iPads onto TV screens via a Roku gadget.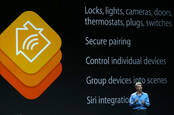 Apple launches incredible features everyone else had more than a year ago – this time for the 'smart home'
READ MORE
The clearest advantage of that is probably the new HBO Max service which is still not available natively on the Roku, reportedly over AT&T's (which owns HBO) insistence on a lower fee than Roku (or Amazon with its FireTV) are willing to pay.
AT&T appears to believe that Roku and Amazon will eventually capitulate, especially with the holiday season coming. HBO Max is available for example on the AppleTV. In that sense, adding AirPlay2 to its devices may allow Roku to hold out on AT&T's demands, even if it requires users to take another step.
It is worth noting that in this reporter's experience, however, AirPlay2 can be a little clunky. There is often a delay in picture and/or sound and it can sometimes drop out or become unresponsive to commands. As to the difference between AirPlay and AirPlay2, basically the new version allows for multiple streams. ®
Similar topics