This article is more than 1 year old
Cool, cool, cool: Screwdriver-wielders delve into the guts of an Xbox Series X
'Like an air conditioner with a graphics card'.... Lessons in heat management from Microsoft
As excited players fired up Microsoft's latest take on gaming, terrors of the torx screw, iFixit, were busy pulling theirs to pieces.
Today's victim, the Xbox Series X, was considerably chunkier than the also released Series S, but also apparently packs more power and an optical drive in the squat, black case.
Microsoft's last crack at a super-powered console, the Xbox One X, scored an impressive eight out of ten for repairability, with only the hard drive meriting particular criticism. A few years on, and that pesky hard drive continues to present problems for those looking to upgrade or repair.
Perhaps stung by overheating issues in the past, the new Series X "almost feels like an air conditioner with a graphics card" according to iFixit's engineers. Indeed, the hulking 130mm fan is relatively easy to extract, requiring just a pair of screws and freed clips in order to gain access; handy for keeping the innards spick and span.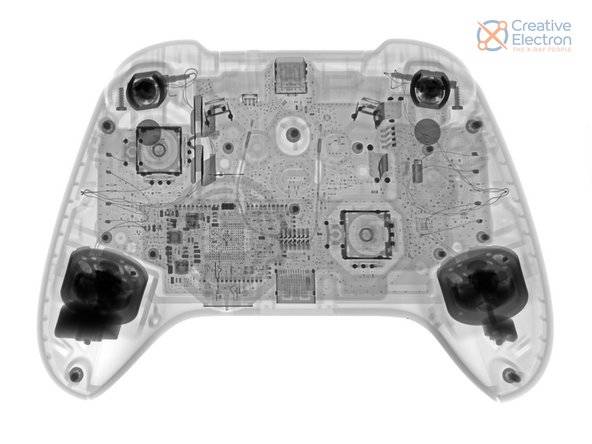 Digital X-ray inspection firm Creative Electron imaged the xbox controller for the iFixit teardown. Pic: Creative Electron
A few more screws and clips beneath the base of the console saw the optical drive – the same model used on the Xbox One X and S – extracted, and a bit of bad news: the drive appears paired to the console motherboard, necessitating some soldering to replace it.
Digging further into the internals revealed what the team described as "mostly just heat management strapped to some boards." Thermal management is the name of the game, and the relative quiet of the Series X when compared to its predecessors is tribute to the designers packing every spare bit of space with cooling technology. Copper, fins, thoughtful airflow management and an enormous fan should stop things getting steamy during an arduous gaming session.
The internal power supply has been increased to 315 watts (up from the 245 watts of the Xbox One X, but down on the 350 watt supply of the PS5) and an aluminium chassis inserted between the system boards in order to shunt heat away from the internals.
Lurking beneath the thermal compound, the team found the 1TB drive: an m.2 2230 NVMe SSD, and SanDisk chips to manage the storage. While the storage is not soldered to the board, the iFixit team reckoned that software headaches meant that replacement by an end-user would be a challenge.
Going further revealed the final board: the "Project Scarlett" (for all the codename hounds out there) AMD Zen 2 CPU and RDNA 2 GPU chip along with 16GB of GDDR6 SGRAM.
Overall, the iFixit crew found the teardown relatively mundane with software barriers marring what should have been a straightforward repair experience. Those software locks saw the score drop a little to a still admirable 7 out of 10.
The attention paid to cooling is certainly, er, cool though. ®