One day after an idiot was put behind bars for four years for shining a laser at a police helicopter, the Feds announced they've indicted a man accused of risking the safety of three passenger planes.
"Pointing a laser at an aircraft is not a prank; it's incredibly dangerous and stupid," said southern Georgia's US Attorney Bobby Christine on Tuesday. "The FBI did an outstanding job of locating and stopping this threat to hundreds of Savannah air travelers."
Roger Floyd Hendricks, 48, of Rincon, Georgia, was charged [PDF] last Thursday with aiming a powerful green laser at no less than three flights. According to prosecutors, Hendricks first shone the laser at a 50-passenger plane attempting to land at the Savannah-Hilton Head International Airport on November 27 last year. He then did it again at a much larger 200-person Airbus A321 on December 8, and again at a small Cessna plane on January 14 this year, it is said.
Soon after the third incident, the FAA asked the FBI to track down whoever was putting crews and passengers' lives at risk, and agents collared Hendricks – the agency hasn't said how and when they nabbed him.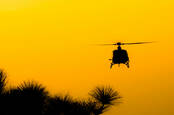 Police chopper chasing a crim near an airport? Ideal time to use my laser pointer, says Texas idiot now behind bars
READ MORE
In recent years, the authorities have taken the issue of "lasing" extremely seriously, and Hendricks is likely to have the book thrown at him. Case in point: a Texan man who was sentenced this week to 51 months in jail, and three years of supervised release, for pointing a laser at a police helicopter was found guilty of a single count; Hendricks is charged with three.
"Each count carries a possible penalty of up to five years in prison and substantial fines, followed by a period of supervised release," the authorities noted, meaning Hendricks could face up to 15 years in the Big House. Criminal indictments contain only charges, and defendants are presumed innocent unless and until proven guilty.
Green lasers are readily available and cost very little, typically less than $100. They are usually much stronger than the red laser pointers people are familiar with, and even a small laser can flood an entire cockpit from afar. Green lasers are visible in daylight.
The authorities can't realistically prevent the sale of small lasers, especially when they have other uses, so they are relying on societal pressure and long prison sentences to discourage scumbags from aiming them at aircraft.
All crew members who experience an "unauthorized laser illumination" are expected to immediately report the incident on landing, and fill out an FAA questionnaire [PDF] which is then provided to law enforcement.
Despite these efforts, the FAA reported 6,136 laser incidents in 2019, nearly 17 a day, compared to 5,663 in 2018, 6,754 in 2017, and 7,398 in 2016. The FAA says the lasers "remain a serious threat to aviation safety." ®