This article is more than 1 year old
Apple suffers setback in epic Epic Games games fight: Federal judge zaps damages counterclaim
Plenty of money left to play for
Epic Games scored a victory in its ongoing acrimonious legal battle with Apple this week after a federal judge dismissed several of Cupertino's counterclaims.
Apple had sought damages and penalties to account for revenues lost during the period when Epic circumvented the App Store payment system, which takes a 30 per cent cut of in-app sales, by bundling its own souk with its games and taking money directly from players.
In dismissing these counterclaims for damages, Judge Yvonne Gonzalez Rogers, in a US federal district court in Oakland, California, said: "I don't believe we've got a tort action here."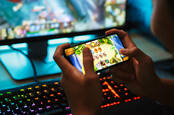 Revenues from in-app purchases swelled 32% to almost $30bn for Q3 2020 – and Apple snaffled most of it
READ MORE
Apple had described Epic's conduct as similar to that of "any other hacker" who misappropriates funds from a company. Its counsel, Anna Casey, cited the precedent of Robinson Helicopter v Dana. In that case, Robinson Helicopter purchased 1,000 "certified" sprag clutches that ultimately proved to be defective and incompatible with the FAA's certification of the aircraft. The defendant, Dana, did not inform Robinson Helicopter of a manufacturing change that had a material impact on whether Robinson could lawfully use them.
Follow the money
Counsel for Epic, John Karin, argued there is no analogous conduct here, saying: "There's no statute or common law principle that requires a developer to pay 30 per cent commission [to Apple]." Judge Gonzalez Rogers seemingly agreed, adding the comparison between Epic and a hacker doesn't work, given Apple was acting as an intermediary to funds owned to Epic.
The dispute stems from Apple's long-held practice of taking a nearly one-third of all App Store revenues, including purchases made in applications, while simultaneously prohibiting developers from implementing their own direct payment methods and leaving the iPhone giant out.
Furthermore, Apple has an iron-clad control over iOS and iPadOS, doing its level best to dissuade developers from distributing apps via third-party marketplaces. While alternative storefronts exist, they require a device to be jailbroken to be used.
For the past three years, Epic Games has repeatedly protested these terms – which mirror those of other digital souks, such as Steam and the Google Play Store – to no avail. In August, it escalated matters by allowing players of its Fortnite multiplayer shooter game to purchase in-game currency at a discount if they use Epic's own payment infrastructure, rather than via the App Store.
This is strictly verboten, and Apple responded by removing Fortnite from the App Store and nuking Epic's developer account. Shortly after, Epic filed suit against Apple, alleging antitrust and anticompetitive behavior, with Cupertino countersuing the following month.
"Although Epic portrays itself as a modern corporate Robin Hood, in reality it is a multi-billion dollar enterprise that simply wants to pay nothing for the tremendous value it derives from the App Store," Apple said at the time. "Epic's demands for special treatment and cries of 'retaliation' cannot be reconciled with its flagrant breach of contract and its own business practices, as it rakes in billions by taking commissions on game developers' sales and charging consumers up to $99.99 for bundles of V-Bucks."
This is by no means the end of the affair. The fundamental issues of the case, which pertain to whether Apple's strict controls on the App Store and revenue sharing framework represents anticompetitive behavior, remain unresolved.
The Register has asked Epic and Apple for comment. ®