This article is more than 1 year old
Need a hobby for lockdown? Perhaps check out the CMOS battery
There are no tags today, but there will always be bork
Bork!Bork!Bork! One benefit of lockdown in the UK has been a surge of national creativity, be it in the form of rainbows crafted from a variety of materials or the sheer quantity of excuses created when faced with a Joe Wicks* workout. But it seems not even a temple for the arts and crafts is immune to the curse of bork.
Snapped within a branch of Hobbycraft in Reading, Berkshire, the kiosk in question is capable of producing all manner of tags in exchange for the trifling matter of a few Great British pound coins.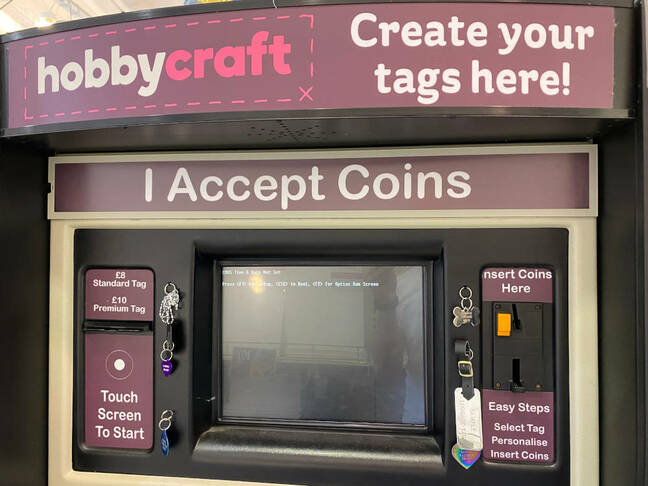 Click to enlarge
At least, it would be if the computer running the show behind the scenes had not lost track of the date and time. We know the feeling – the days of joking that "Oh, it's the 255th of March" have long been replaced by the grim reality of never leaving the house for weeks on end. Even for a freshly created tag.
The message itself is one that crops up before the computer in question goes looking for a boot device and could be an indicator of a failed CMOS battery or something more sinister. Without being able to listen for the tell-tale sequence of plaintive bleeps that would normally accompany the message, it is tricky to tell.
Certainly, the first step (if a reboot doesn't cure things) would be to get the back off the box and go hunting for that battery; something that we've no doubt would not be beyond the creative fingers of a Hobbycraft customer once that glue gun has been prized from them.
A lack of keyboard means that hitting the escape key to allow the PC to boot, time and date ignored, is sadly not possible. Telling the computer that it is actually 2020 is also not a go-er (we doubt jabbing the touchscreen will do any good), but probably a blessed relief for the hardware within.
Sadly, the current restrictions mean that the stricken machine is once again behind locked doors until December.
Who knows, but as March-tober gives way to March-vember, perhaps by then March will almost have come to an end.
Have you spotted a computer behaving badly? Or do you have a story of breathtaking incompetence on your or another's part? Send an email to The Register for inclusion in our antidote to the 12 Days of Christmas, kicking off next month. ®
*For those unfamiliar, he is a slim-fit beardy man from Essex with hard cold eyes in the type of shorts you'd hoped to leave behind in junior school, and hosts high intensity interval training sessions from an all-white living room. He's given some of the money from the YouTube hosted workouts to the NHS, so we suppose he's alright... but your knees will not thank you if your carcass is over 60kg.