This article is more than 1 year old
Google to end free unlimited online photo, vid storage, will eventually delete files if accounts go over their cap
Gmail, Drive to count toward 15GB of gratis cloud space, caveats abound
Google will cap its free online storage to 15GB per person, give or take some caveats, and users will have to pay if they go over that limit – or have their excess data deleted – the search giant said on Wednesday.
That storage space includes Gmail, Photos, and Drive, which includes Google Docs, Sheets, Slides, and other Workspace files. This move comes five years after Google launched unlimited online storage of high-quality photos and videos, a service we joked would be axed after four years. We were a couple of years out.
High-quality photos and videos, and other files and email, already stored in your Google account, or uploaded before June 1, 2021, will not count toward the 15GB allowance. However, from that date onward, any pictures, video, and other data uploaded to your account will count toward that 15GB cap.
(By high-quality, we mean, images larger than 16Mp or videos higher than 1080p that Google optionally compresses for you to save space. These have enjoyed, and until June 1 will enjoy, unlimited online storage. If you uploaded originals without compression, they counted toward and will continue to count toward a 15GB account limit. From June 1, everything counts toward the 15GB free limit. If this feels messy, it's because it is, and because it's Google.)
You can add more capacity to your account beyond the free 15GB by coughing up for a Google One subscription. There are three different plans, ranging from $1.99 to $9.99 per month to add 100GB to 2TB of space, or $19.99 to $99.99 if you decide to pay a lump sum for a whole year.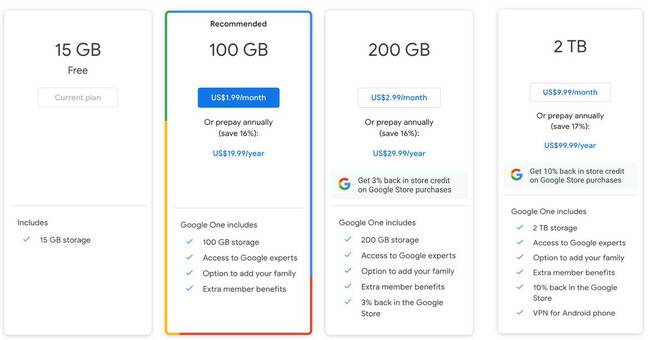 Google One's pricing options for storage ... Click to enlarge
If you don't use a particular Google service, such as Gmail, for more than two years, the web giant may delete data associated with that service from your online storage. If you go over your account's storage limit, data may be deleted after two years.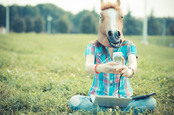 Google adopts 'value-neutral' language to make selfies less about 'beauty'
READ MORE
Google justified the changes by saying its users were consuming more and more digital storage space in its cloud, and the unlimited free ride is thus coming to an end. More than a billion people use Google Photos, 28 billion snaps and vids are uploaded weekly, and more than four trillion are stored online currently, Googler David Lieb said.
It's also a cheeky push to get folks using Google Pixel smartphones, too: those devices will be exempt from next year's 15GB limit when uploading high-quality vids or pictures. "If you have a Pixel 1-5, photos uploaded from that device won't be impacted. Photos and videos uploaded in high quality from that device will continue to be exempt from this change, even after June 1, 2021," Google Photos veep Shimrit Ben-Yair noted.
A Google spokesperson told El Reg that while today's Pixel handsets will continue to enjoy free unlimited cloud storage of high-quality material even after the June deadline, future Pixel model will not be similarly exempt from the above changes.
Google has promised to roll out a tool in June to help people manage their photo collections by highlighting any images that may be worth deleting, such as ones that are blurry or too dark. The internet goliath also claimed it doesn't mine documents, email, photos, and videos stored in accounts for targeted advertising. ®