This article is more than 1 year old
HP: That print-free-for-life deal we promised you? Well, now it's pay-per-month to continue using your printer ink
EFF on the attack as IT giant tries to claim free supplies during 'device lifetime' just an introductory offer
HP Inc is under fire for not only ending its promise of free ink for life but also automatically enrolling customers into a subscription plan to continue using their printer ink.
"During the pandemic, home printers have become far more important to our lives," said Cory Doctorow of the digital-rights warriors at the EFF. "It's hard to imagine a worse time for HP to shove its hands deeper into its customers' pockets."
What's happened is this: HP runs a thing called Instant Ink, in which you pay a monthly fee, and periodically get sent ink cartridges to fit into your printer. The amount you pay dictates how many pages you are allowed to print. For instance, $25 a month lets you print up to 700 pages in that period, of which you can rollover up to 2,100 unused pages to subsequent months. After running out of your allowance, you must pay $1 per 15 pages. Don't pay, can't print.
Customers chose when setting up their HP device whether they want to go down the Instant Ink route, or go out and buy cartridges themselves. If they cancel their Instant Ink plan, they have to send the cartridges back to HP – the supplies won't work anymore with the printer, anyway – and buy their own standard ones instead.
For users who don't need to print much, and to lure folks into the subscription system, HP marketed a print-free-for-life tier that cost nothing, though it was limited to 15 pages a month, and $1 per 10 additional pages. The idea being: you buy a printer, you sign up for the Instant Ink free tier, and get enough supplies gratis to print a few things a month during the device's lifetime.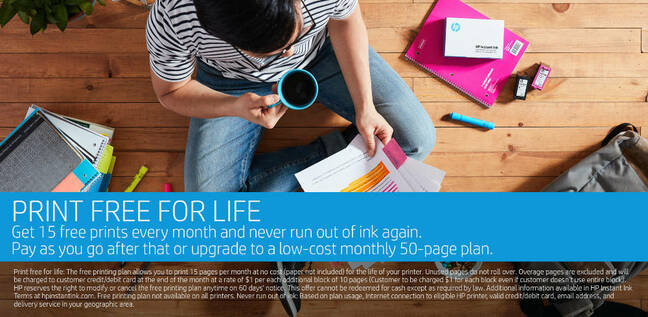 Those were the days ... A sample of HP's marketing for its print-free-for-life scheme
Well, not anymore: the free tier is being scrapped, and now folks have to pay. Below is a typical email sent to customers at the end of last month. One print-free-for-life reader told us he has to start paying HP a monthly fee from December 26, or his printer will stop working unless he buys his own fresh cartridges. The fees start from $0.99 a month for 15 pages, just like the free tier albeit with the ability to rollover up to 45 unused pages.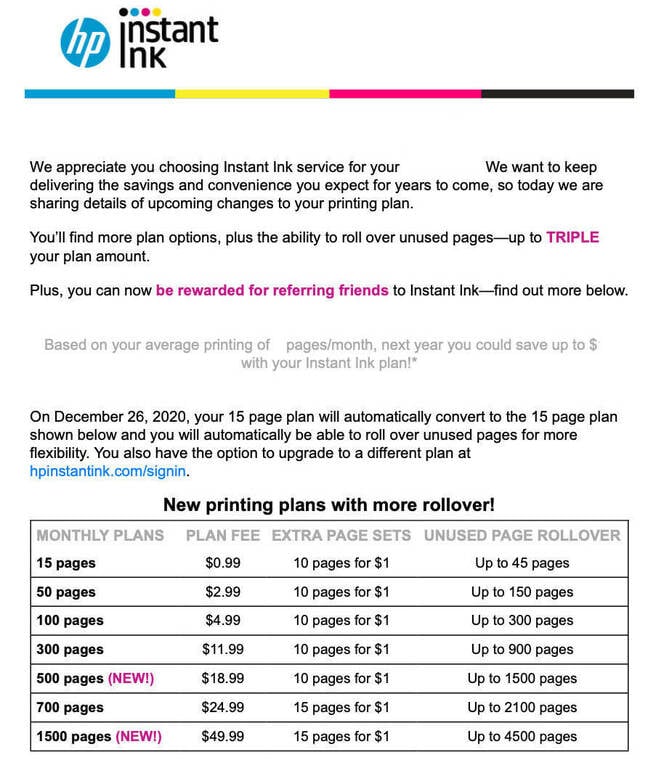 HP's email, redacted by us, announcing changes to the pricing tiers ... Click to enlarge
An HP spokesperson argued that the IT giant's print-free-for-life plan was "an introductory offer," adding:
We notified our customers in October via email that our Instant Ink subscription service now includes new printing plans that allow for more roll-over flexibility, options and benefits. As a result, some subscribers may see a change in pricing.
The free printing plan, which included up to 15 pages a month, started as an introductory offer for our Instant Ink subscribers about two years ago. We are now adjusting our offerings to enable customers to enjoy more flexibility and options. As a result, we are ending our free printing plan offer starting this December for existing customers, and we have ended our free printing plan as of November 4 for new customers. However, customers can still access very affordable printing plans, with the lowest-cost plan priced at $0.99 per month for 15 pages.
EFF special adviser Doctorow is having none of it. "HP's latest reinvention as a wallet-siphoning ink grifter is a sad turn indeed," he thundered. He reminded us HP emits firmware updates for its printer models that quietly prevent them from using cheaper non-HP ink cartridges.
"US law – section 1201 of the DMCA, and the Computer Fraud and Abuse Act – allows the companies to get away with this, giving them tools to attack refillers and remanufacturers who act as a corrective for their bad deeds," Doctorow told The Register. "The industry is so concentrated, thanks to lax antitrust enforcement, that there's little competitive pressure to drive companies to make binding promises not to do this."
Last month, HP clumsily revoked its printer support software on macOS, leaving customers unable to print on their Macs to their HP devices without jumping through hoops.
And this month, HP Color Laser Jet owners complained they were suddenly unable to print after getting "Supply Problem" errors; it appears another firmware update was pushed out to devices to block the use of third-party cartridges.
HP also confirmed the Instant Ink policy has changed globally. ®