This article is more than 1 year old
Apple drops macOS Big Sur on the world – and it arrives with a thud, sound of breaking glass, sirens in the distance...
Server problems mar operating system version 11 rollout
Apple on Thursday released macOS Big Sur, the latest iteration of its desktop operating system. Designed to support the iPhone giant's new line of Apple Silicon devices, scheduled to ship next week, the operating system upgrade didn't quite go as planned.
Efforts to download the software overwhelmed Apple's servers, leading Apple's support forum to fill up with complaints about delays, errors, and disconnections.
Starting around 1000 Pacific Time, Apple's macOS Software Update service reported an "Issue" that was under investigation. Other Apple services had it worse: Apple Card, Apple Pay, Maps Routing & Navigation, and Maps Traffic showed outages and iMessage had problems too.
By about 15:30 Pacific Time, the status board showed all green, but some people disputed that the problems had been entirely resolved.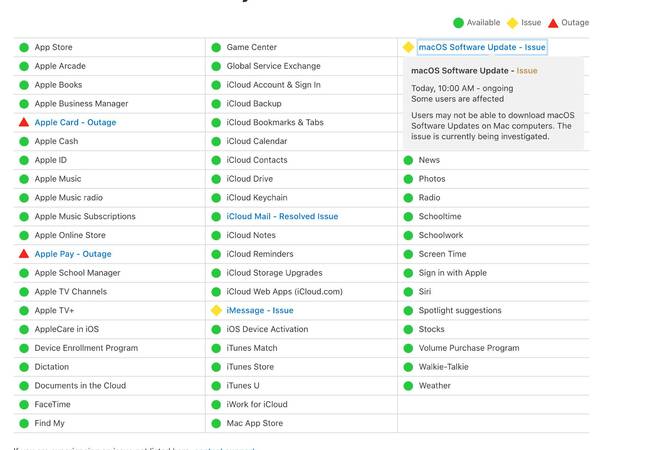 Click to enlarge
Those opining on Reddit reacted with characteristic understatement and understanding, offering observations like, "This is easily the worst rollout I've seen of any Mac operating system in the past 20 years. I wonder if Apple will even acknowledge this with a statement, or if they'll just eventually fix it and pretend it didn't happen."
The Register asked Apple whether anyone wished to address the complaints. So far, we've had no response.
Lol see you next month I guess#Apple #BigSur pic.twitter.com/ylyyNrWjUX

— Elijah Boisvert (@elijahboisvert) November 12, 2020
The issues were compounded by the apparent failure of an Apple-hosted server, or server farm, macOS uses to check the validity of applications' code-signing certificates, ocsp.apple.com, via its trustd process. The snafu caused macOS apps to hang on launch, such as during startup and after installation, for some users.
Jeff Johnson, who runs app development biz Lapcat Software, advised blocking trustd via a network filtering app like Little Snitch until Apple corrects the problem.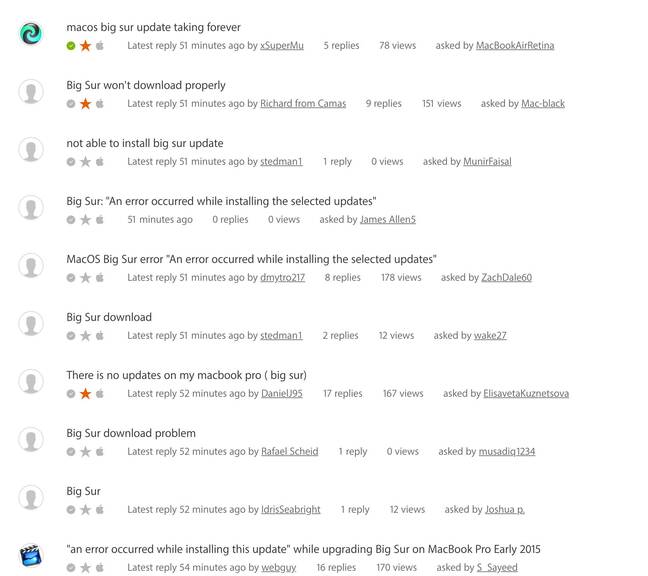 Click to enlarge
For those who managed to install Big Sur, there's "a spacious new design that makes navigation easier," though the fresh coat of paint hasn't won over those concerned about accessibility.
Safari received "biggest update to Safari since its original launch in 2003," according to Apple. It will run JavaScript 1.5x faster, it's claimed, if used on a Mac laptop or desktop powered by one of Apple's new Arm-compatible M1 chips. Nonetheless, many web developers still don't much care for it.
The browser's WebKit engine has been bestowed with a meaningful privacy improvement. Intelligent Tracking Prevention (ITP) in Safari 14 now limits the lifetime of cookies set through third-party CNAME-cloaked HTTP responses to seven days. CNAME-cloaking is a technique for bypassing users' browser privacy choices.
The Messages app, meanwhile, has been tweaked with various improvements like conversation pinning, better search, group messaging enhancements, and the ability to create and customize Memoji. The Maps app has also been improved with discovery features like Guides from "trusted brands."
In conjunction with Big Sur, the Mac App Store will soon feature privacy "nutrition labels," to help people understand how apps handle data.
And there's not much else in the operating system update, at least for consumers, if you don't count bug fixes.
Developers get the ability to build apps as Universal 2 binaries, with support for both Intel x86_64 and ARM64 instruction sets, the latter being the language of Apple Silicon. But anyone looking to do development work on an Apple Silicon machine next week should confirm that favored tools have been updated to run on ARM64. Docker, Homebrew, and various other developer-oriented applications aren't yet compatible. ®