This article is more than 1 year old
Oh! What a lovely pandemic, says Cisco as it sees wave of network refreshes on the horizon
But most recent quarter was a bit grim with revenue down nine percent and switching, routing, servers and wireless sales all slumping
Cisco has revealed that the first quarter of its new financial year saw a 13 percent fall in product revenue and "weakness" among commercial and enterprise buyers. And while execs have forecast a rebound, guidance offered to shareholders was for revenue to be flat or shrink a little in Q2.
Revenue for Q1 2021 came in at $11.9 billion, a decrease of nine percent year-on-year. GAAP net income was $2.2bn, down 26 percent. Earnings-per-share were 51 cents, down 25 percent year-on-year.
CFO Kelly Kramer got the bad news out of the way early in her segment of the earnings call.
"Total product revenue was down 13 percent to $8.6bn," she said. "Infrastructure Platforms was down 16 percent."
"We saw declines across switching, routing, data center and wireless, driven primarily by the weakness we saw in the enterprise and commercial markets."
"Data center revenue declined, driven by servers. Applications was down eight percent."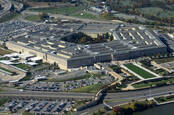 Cisco penta-gone from Pentagon as Aruba rolls in a new net
READ MORE
But she and CEO Chuck Robbins also had good news, too, calling out growth in the company's Catalyst 9000 range, Meraki WiFi kit, Webex, security products and business resiliency offers.
Robbins was very pleased to report 78 percent of software revenue now comes from subscriptions, with $20.5bn of deferred revenue now on the books. "We are succeeding in transforming our business model," he said. "You will see us deliver more of our technology as a service to provide more choice and flexibility across our entire portfolio."
Once the prepared part of the earnings call was done, several of the financial analysts present tried to dig deep on slowing enterprise sales and it was then that Robbins explained why Cisco thinks happy days lie ahead.
"We see large transactions showing up again in the funnel, which is positive," the CEO said. "If you look at across the core infrastructure, enterprises are going to upgrade their core infrastructure. They're going to build out a robust on-prem collaboration because every meeting is going to have remote attendees and you're going to have to have it in virtually every conference room. So that's positive."
"Everybody is moving to this WAN re-architecture with SD-WAN and cloud security."
We saw declines across switching, routing, data center and wireless, driven by weakness in the enterprise and commercial markets
Robbins also feels customers are moving into a new phase that bodes well for Cisco. Early in the year he said customers rushed to build remote work infrastructure. This past quarter was, in Robbins' estimation, the pause between coping with the pandemic and starting work on a new wave of projects.
Cisco may have some new products to meet that moment: Robbins said he's seen an internal demo of meeting room systems that count the number of attendees present and then warn if social distancing is not possible if all those present stay in place. Cisco meeting room kit has had this sort of capability for a while, but it has previously been used for post-meeting analytics to help plan use of office space rather than realtime warnings.
But despite the big network refreshes Robbins forecast, guidance for Q2 was for revenue to land between no growth or a two percent decline.
The call marked CFO Kramer's last public outing for Cisco, as her retirement was announced 90 days ago. Robbins revealed that former Autodesk CFO Scott Herren will become executive veep and CFO in mid-December.
"He brings an incredible background in software and helped lead Autodesk's successful business model transformation from perpetual licenses to SaaS and subscription software," Robbins said, praising his potential to "help us accelerate our transition."
And yours, too, because Cisco is clearly relying on plenty of you deciding your networks need a refresh. ®