This article is more than 1 year old
Lockdown bidder block shock: Overzealous parental filters on Virgin Media and TalkTalk break eBay for UK users
No-no-no-no-no! I'm going to lose my bid on the £7 horse mask, um, I mean important lockdown things I need
Second-hand tat bazaar eBay was unavailable for some UK users this week, after Virgin Media and TalkTalk mistakenly blacklisted the site's CDN in their parental control filtering software.
While the primary eBay domain was unaffected, both ISPs had inadvertently blocked ir.ebaystatic.com, which is responsible for serving CSS and JavaScript files to users. In practice, this meant that people could open the site, but couldn't actually use it to buy the usual pre-loved tchotchkes.
The error was spotted by UK digital civil liberties watchdog, The Open Rights Group, which estimated the problem affected between 20 and 30 per cent of Virgin Media and Talk Talk customers, and lasted at least three days.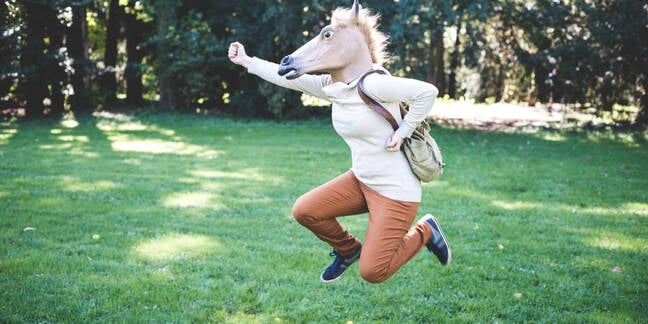 We're not saying you should wear this to Sainsburys, but you have got to have some fun in life...
Predictably, furious punters took to DownDetector to complain. "[I've] not been able to do anything on my account for days. Just black arrows everywhere. I cant access my orders or contact customers. I cant make any new listings either," wrote one customer, Charlie.
"I'm with TalkTalk and the pages aren't loading correctly. I have problems with faulty goods and non arrivals and can do nothing about it," complained Melanie Kilborn.
El Reg contacted eBay for comment, which confirmed the existence of the problem, although said the issue was merely fleeting. "eBay experienced technical difficulties for a short period yesterday, where some users temporarily had trouble using the site. The issue is now fully resolved and we apologise for any inconvenience," a spokesperson told us.
In an emailed statement, a Virgin Media spokesperson said: "Unfortunately, our parental control software inadvertently prevented some of our customers being able to access parts of eBay for a small period of time. This issue has now been resolved and we apologise for the inconvenience caused."
It added: "It is important to note that Virgin Media does not block access to websites, unless we are complying with a mandated court order."
TalkTalk declined to comment.
According to Jim Killock, executive director of the Open Rights Group, this issue illustrates the endemic problems in ISP-supplied parental filtering software, which routinely block legitimate and innocuous content.
"Adult content filters supplied by major ISPs regularly block all kinds of business and personal websites. We get around 30 complaints filed to ISPs a month through http://blocked.org.uk. Mostly they are selling cannabis oil or offering counselling and support services. Sometimes, the reasons for blocks are inexplicable, but the disruption and inconvenience is very real," Killock told us.
"It is especially concerning where services like TalkTalk and Sky have opted customers into filters without explicit agreement. Filters are dumb, and they make very stupid mistakes. They should never be imposed on adults without their agreement."
In July 2013, the UK's then-largest fixed line providers — BT, Sky, TalkTalk, and Virgin Media — agreed with Ofcom to provide customers with optional content filtering by the end of the year. These providers were obliged to contact subscribers and give them a choice to activate the network-level smut filter.
Predictably, these protections were beset with problems, not least a tepid enthusiasm from punters, who largely didn't bother activating them.
They quickly became an administrative and PR headache for ISPs, which had to fend off complaints of wrongfully blocked sites, as well as allegations the categories used to define verboten content were overtly broad. Some providers, notably BT, were found to block access to sites offering information on sexual health, relationships, and the gay and lesbian "lifestyle" - although it has since updated this. ®