Pass us a tissue: Capita CFO calls it quits, talks of 'privilege' to work at 'centre' of biz that 'touches the lives of millions'
New interim human calculator hired, permanent replacement being hunted
Capita's most senior counter of beans, CFO Patrick Butcher, is standing down from the board with immediate effect and will – according to the business – "assist" his chosen replacement as he hands over the corporate calculator.
Butcher started at the company in January 2019 amid the most challenging period in Capita's 30-plus-year history following a string of profit warnings and declining revenues. Then COVID-19 presented a whole new set of hurdles in terms of financial results and costs.
London Stock Exchange-listed Capita said today that Butcher had made the decision to quit and "pursue other opportunities." He will work with his successor, Gordon Boyd, who is taking over from today as interim CFO and executive director.
"It has been a privilege to be at the centre of an organisation which touches the lives of millions of people every day by delivering essential services and solutions," said Butcher is a canned remark.
Capita has touched the lives of millions of Brits, but maybe not always in a positive way.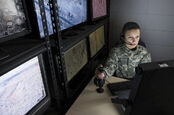 Capita's bespoke British Army recruiting IT cost military 25k applicants after switch-on
READ MORE
Butcher, along with CEO Jon Lewis, did the decent thing in March by taking a 25 per cent pay cut as the company took advantage of the British government's furlough scheme during the first lockdown, using taxpayers' money to support staff not able to work. Both execs took smaller share awards too due to COVID-19 and weaker-than-anticipated performance by Capita.
The outgoing CFO will remain employed until the end of March and will be paid as such during that time.
Boyd, who was group treasurer at British Energy, CFO at Drax, and interim CFO at SSE Energy, will not find his new employer in rude health. Though Lewis, hired in 2017 to turn around the organisation, has sold off areas of Capita that he deemed non-core and overseen corporate cost cutting, contract attrition hasn't helped move Capita's top line in he right direction.
Lewis found a business that he said was "driven by a short-term focus", lacking "operational discipline and financial flexibility", and was "too complex". He pared things back to IT services, software, HR, customer management, and government services.
This was supposed to be the year when the fruits of Lewis's decisions were to yield better returns, but the pandemic put paid to that. Capita revealed last week that it expects revenue to decline 10 per cent for 2020. ®