This article is more than 1 year old
Honey, I shrunk the iPhone 12: Mini teardown reveals same components, only smaller
And with better repairability than its big brother too
Though the iPhone 12 Mini is the smallest device in Apple's newest lineup, it is largely feature-complete when compared with its stablemates.
A new teardown from iFixit shows how Cupertino pulled it off: components have been shrunk across the board and packed together so tightly, they might as well be flying with budget airliner Ryanair.
Smaller phones mean smaller batteries, both in terms of capacity and physical footprint. Nonetheless, Apple managed to dinkify components you perhaps wouldn't expect, like the phone's loudspeaker and Taptic Engine – the component that provides haptic feedback in the form of vibrations at specific points, which was shrunk by 25 per cent. Like its bigger siblings, the Mini flavour of the iPhone 12 comes with MagSafe wireless charging tech, but with certain edges chopped off to fit within the 5.4-inch footprint.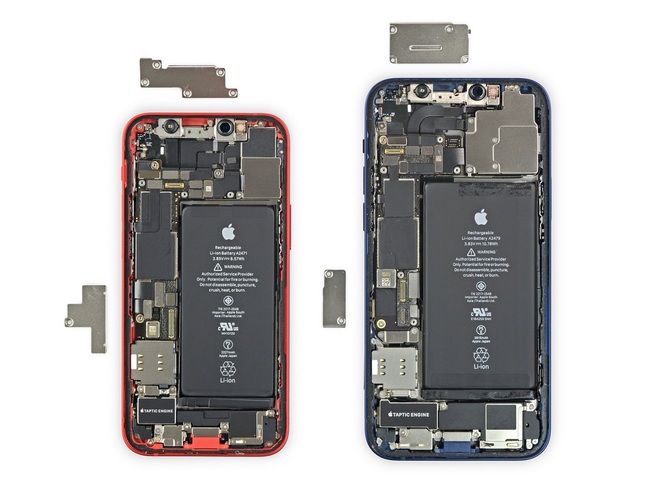 iPhone 12 Mini compared with iPhone 12 (pic: iFixit)
Still, space is a premium within the chassis of the iPhone 12 Mini. It comes with the same camera module as the iPhone 12, albeit with slightly changed flex cables, but without the plastic spacer found in the pricier model.
iFixit spotted some dissimilarities between the variants of the iPhone 12 Mini sold in Europe and the US, with the latter getting support for mmWave 5G, which is largely absent on our shores. The inclusion of mmWave slightly complicates disassembly as the antenna, which is fused to the phone's backplate, is soldered to the phone's logic board.
This isn't a massive hassle, particularly if you're a dab hand with a soldering iron, but it nonetheless adds a degree of complexity to teardowns that aren't present in the European version.
Some good news, however, is that the anti-repair behaviour of the iPhone 12 is absent in the Mini flavour. To recap, right-to-repair activists discovered that camera modules transplanted between iPhone 12 phones would malfunction without access to a proprietary Apple cloud tool. That doesn't happen here, according to iFixit's tests.
Overall, iFixit gave the Mini a repairability score of 6, which is on par with other recent iPhones. The device won praise for its modular design approach, which simplifies routine repairs like battery and display replacement. It lost points for its all-glass design, which is tricky to fix if dropped, and would likely necessitate the replacement of the phone's external body.
Apple opened pre-orders for the iPhone 12 Mini earlier this month, with the first units delivered to punters last Friday (13 Nomveber). ®