A West Midlands town has found out the hard way exactly how much sympathy IT suppliers have for public sector bodies disrupted by the unprecedented circumstances of the current COVID-19 pandemic.
The Register's attention was brought to an anomalous piece of procurement justification published earlier this month in connection with Dudley Metropolitan Borough Council's HR system.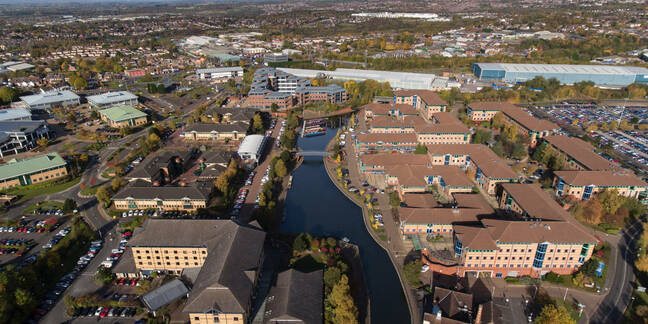 Aerial view of the Waterfront area in Dudley, West Midlands, UK
Back in 2017, the council went live with iTrent, from MidlandHR. This year, it was set to make some decisions as the contract came to an end.
What did it do? It rehired Midland without outside competition, signing a £1.05m contract, seeming in none-too-favourable circumstances.
The procurement notice – out on 2 November – said that the decision to award the contract to MidlandHR was taken on technical grounds, as it had opted to stick with the software and no one else could support it.
But the pandemic seems to have put the council in something of a tight spot, where even an "emergency process" failed to produce the desired result.
"Due to the re-prioritisation of Council resources to manage the Covid-19 pandemic officers were unable to address the immediate replacement of the contract, even following the emergency process, and as such a full procurement process could not be complied with. Despite negotiations with MidlandHR, the only contract term available to the Council is for another 5 years," the notice said.
A spokeswoman for the council said it was considering extending the contract even before the onslaught of COVID-19 and the ensuing lockdowns which disrupted the entire UK economy.
"A number of options were considered by both the contractor and the council," the spokeswoman said.
But "ultimately a five-year term was, considering all matters, felt to be the best course of action," she continued, ignoring the fact that the tender document says it was the only course of action available.
So five years it is then, whether the council likes it or not, a seeming indication of its lack of leverage with the supplier.
It is not even as if the implementation went according to plan. For a start, the system went live in April 2017 even though it "was not finally signed off until July," according to a council meeting document.
The September 2018 council gathering heard that "problems around Payroll and Pensions were highlighted and immediate actions were put in place to address the issues because of the significant risk to the authority." Such was the severity that the issue required an "improvement plan that ran alongside the restructuring to address the pressing issues" as well as "changes to the leadership of the service."
By complete coincidence, Dudley Metropolitan Borough council found itself having to terminate the contract with its parallel but unrelated Microsoft Dynamics implementation because "it had become apparent that the third party supplier was not working within the best interest of the authority."
While a £1m IT contract may be chickenfeed to the big vendors, Dudley council is responsible for social care and education during a pandemic in an area where half of the children grow up in poverty. It might have welcomed a bit more negotiating room with a vital IT supplier. ®
Similar topics