This article is more than 1 year old
As nearly everyone stays home for the pandemic, plunge in overseas charges dents Vodafone's revenues
Dare we say... telco fiddled while roam burned?
Vodafone was today left counting the cost of reduced international travel among its customer base due to the COVID-19 pandemic.
The group's revenue fell 2.3 per cent to €21.43bn in the six months ending to September 30, which the telco attributed [PDF] to a steep decline in roaming charges. Lower handset sales were also partially blamed.
This periodic slump was most keenly observable during the start of the recorded period - when lockdown was in full swing - and largely tracked European flight volume, according to a Vodafone spokesperson.
In May, European roaming revenue fell nearly 80 per cent when compared to the previous year. This coincided with airlines almost universally slashing their route map. During the same period, Ryanair, Europe's largest airline by passenger volume, operated a skeleton schedule with just thirty daily flights.
The summer months, which brought fewer travel restrictions, weren't much better, with roaming revenues down nearly 70 per cent in August.
Although news of a COVID-19 vaccine brings a glimmer of hope to Vodafone's roaming revenues, the reality is that any recovery remains far away, particularly as European nations grapple with a second spike of the virus. In the UK, a second national lockdown has prohibited all but essential international travel.
Still, despite the softer revenues, profits were up. Vodafone's bottom line swelled to €1.56bn – up from a loss of €1.891bn during the same period last year. This was due to an aggressive focus on cost cutting, combined with major one-time expenses that weren't repeated during this time period.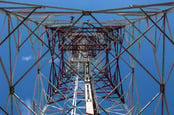 Not-so-paltry towers to float: Vodafone reveals IPO plans for mega European masts biz
READ MORE
During the first half of fiscal 2020, Vodafone lost €1.9 billion in its Vodafone Idea joint venture, following a Supreme Court ruling pertaining to taxes and spectrum charges.
Nich Read, group CEO at Vodafone, said in a canned statement: "COVID-19 and the reduction in roaming revenues, through the significant reduction in international travel, is currently obscuring our underlying commercial progress."
Over the past two years, Vodafone's European retail footprint has shrunk by a fifth to 6,300 stores. This, combined with other measures, has allowed Vodafone to reduce its customer care costs by up to 10 per cent, according to CCS Insight analyst Kester Mann.
Philip Carse, chief analyst at Megabuyte, said Vodafone's reduced operating expenses helped to offset roaming challenge to growing the top line.
"Fortuitously for Vodafone, COVID-19 revenue pressures have coincided with significant cost savings being achieved from its digital transformation programme enabling a stable profit and cash outlook even in the toughest of times."
Coinciding with the results, Vodafone said it remains on track to take its Europe-wide tower business, Vantage Towers, public next year. Vodafone plans to introduce the property to investors later this week in a capital markets day, ahead of its IPO, which could raise as much as €4bn at IPO. ®