This article is more than 1 year old
A year of software testing appears wasted as 'upgrade' shutters Australian stock exchange on its debut
Trading proves a tricky combination
Australia's stock exchange took most of Monday off, without warning, after new software went live... and quickly created problems that made trading inadvisable.
A statement [PDF] said a shutdown of the exchange was needed because: "A software issue limited to the trading of multiple securities in a single order (combination trading) created inaccurate market data."
Software problems happen all the time. But stock exchanges are expected to operate reliably and the Australian Stock Exchange (ASX) had prepared for this particular day for a year, because it was the production debut of a new software release for its equity trading platform.
"ASX, our technology provider Nasdaq, customers and independent specialist third parties conducted extensive testing for over a year, including four dress rehearsals, in preparation for today's go-live," the bourse's statement says.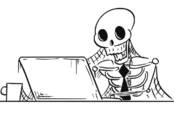 One of the world's most prominent distributed ledger projects has been pushed back by a year
READ MORE
Yet all that testing did not catch the flaw.
Complicating matters further, the ASX recommends combination trading as a risk-reduction option.
"An Equity Combination Order removes the execution risk associated with working the individual legs of multi-legged orders," says this ASX brochure [PDF]. "As a result Equity Combination Orders are particularly useful for arbitrage, stock conversions, pairs trading or any other combination where a net price outcome is desired."
The ASX promised the fix would only take a day and was true to its word, as it resumed trading on Tuesday and even hit a new 100-day high.
Its CEO Dominic Stevens apologised for "the disruption caused to investors, customers and other market users. The outage falls short of the high standards we set ourselves and the standards others expect of us," he added.
"Notwithstanding the extensive testing and rehearsals, and the involvement of our technology provider, ASX accepts responsibility," he said, adding that the Exchange remains "determined to continue our program of contemporising ASX's technology stack from top to bottom."
Which needs doing because the bourse still runs Itanium silicon for core trading applications that are being replaced by a distributed ledger. ®